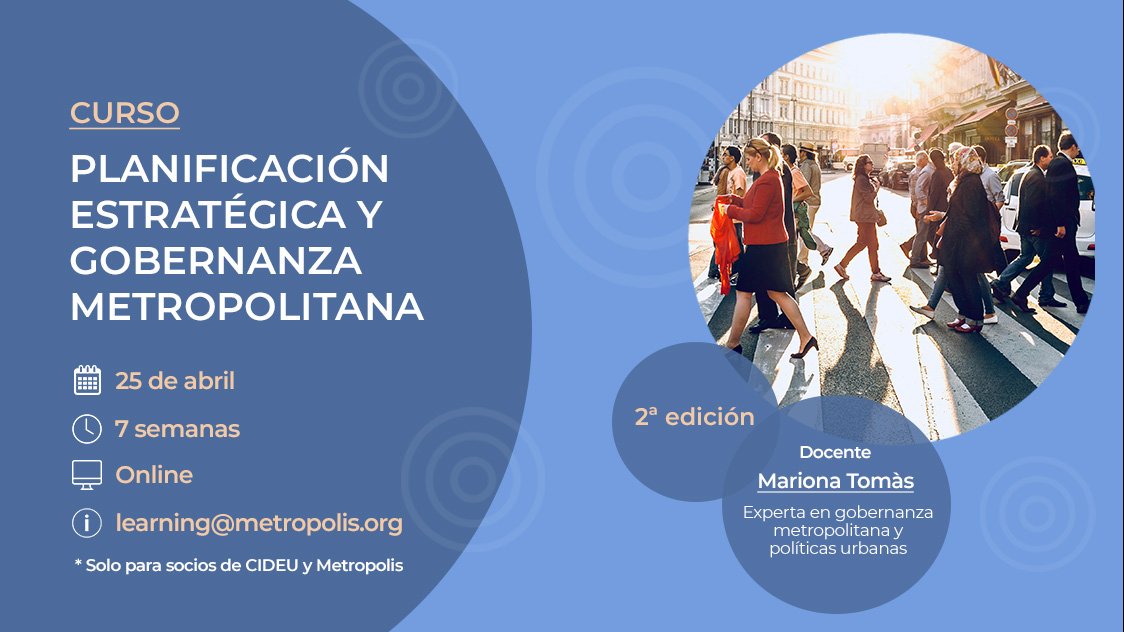 Strategic planning and metropolitan governance (2nd edition) (ES)
Online
CIDEU and Metropolis present the second edition of this 7-week course during which existing models of metropolitan governance and planning, with their advantages and disadvantages, will be presented, and we will analyse the main metropolitan challenges and how to face them. This course, delivered entirely in Spanish, will be offered free of charge to members of one of both organisations.
Junto con CIDEU, organizamos la segunda edición de este curso de 7 semanas en el que se presentaron los modelos de gobernanza y planificación metropolitana existentes, con sus ventajas y desventajas, y se analizaron los principales retos metropolitanos y cómo afrontarlos. Este curso, impartido íntegramente en español, se ofreció de forma gratuita a los miembros de una de ambas organizaciones.
Contents
In this course you will understand the conceptual bases of governance and strategic planning on a metropolitan scale. You will gain an in-depth knowledge of the different existing metropolitan governance models, with their advantages and disadvantages, and the factors that condition their development.
Target audience: Technical and/or senior local government staff members of Metropolis or CIDEU.
Registration fees: free for members of Metropolis or CIDEU
Course language: Spanish. Fluency is a fundamental requirement.
Course instructor: Mariona Tomàs Fornés, expert in metropolitan governance and urban policies, professor of Political Science and member of the Research Group on Local Studies (GREL) at the University of Barcelona.
Deadline to apply for this course: 10th April 2022
---
Course programme (find here the full version of the program in Spanish)
Unit 1. Introduction. The growth of the metropolises and their future in the 21st century 

Unit 2. Models of organisation and institutionalisation of metropolitan areas

Unit 3. Metropolitan challenges and how to face them

Unit 4. Final course assignment 

 
If you want to evaluate if this course could be relevant for your work, you can always take this short, free and self-managed training capsule (estimated duration: 1.5h). Available only in Spanish. 
En este curso comprenderás las bases conceptuales de la gobernanza y la planificación estratégica a escala metropolitana. Profundizaremos en el conocimiento de los distintos modelos de gobernanza metropolitana existentes, con sus ventajas e inconvenientes, y de los factores que condicionan su desarrollo. 
Dirigido a: Personal técnico o directivo de gobiernos locales o regionales de alguna de las organizaciones miembro de Metropolis o CIDEU.
Matrícula: gratuita para miembros de Metropolis o CIDEU
Idioma del curso: Español. La fluidez es un requisito fundamental.
Profesora del curso: Mariona Tomàs Fornés, experta en gobernanza metropolitana y políticas urbanas, profesora de Ciencia Política y miembro del Grupo de Investigación en Estudios Locales (GREL) de la Universidad de Barcelona.
Fecha límite de inscripción: 10 de abril de 2022
---
Programa del curso (encuentra  aquí la versión integral)
Unidad 1. Introducción. El crecimiento de las metrópolis y su futuro en el siglo XXI 

 

Unidad 2. Modelos de organización y formalización de las áreas metropolitanas

Unidad 3. Retos metropolitanos y cómo afrontarlos

Unidad 4. Trabajo final de curso

 
Si quieres valorar si este curso podría serte útil para el desempeño de tu trabajo, siempre puedes realizar esta cápsula formativa que es corta, gratuita y autogestionada (duración estimada: 1.5h)
Speakers
Mariona Tomàs Fornés, experta en gobernanza metropolitana y políticas urbanas, profesora de Ciencia Política y miembro del Grupo de Investigación de Estudios Locales (GREL) de la Universidad de Barcelona.
Oriol Estela, Coordinador general del Plan Estratégico Metropolitano de Barcelona (PEMB)
Rafael H Forero H, Policy, experto en políticas y gobernanza metropolitana en UN-Habitat (United Nations Human Settlements Programme)
Yolanda Bichara, Directora ejecutiva de COAMSS/OPAMSS
Maria Peix, Responsable de Cooperación Internacional del AMB 
Francisca Rojas, especialista en desarrollo urbano del Banco Interamericano de Desarrollo 
Agustí Fernandez, Investigador senior y director del programa Ciudades Globales de CIDOB
Topic
Governance and citizen engagement
Public space and Housing