Short title
Policy Transfer
Images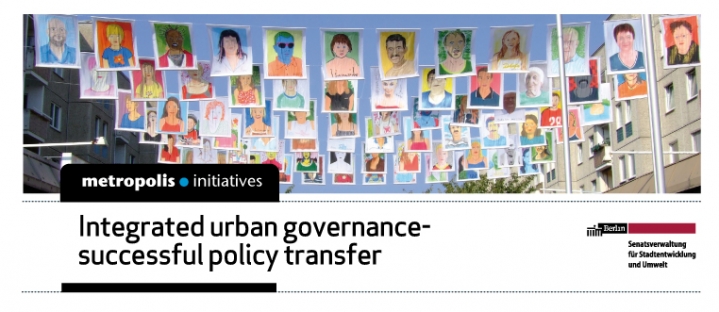 Aim
<p>This Initiative aims to identify successful policies on integrated urban governance – policies capable of being transferred to other metropolises. To reach this goal, interactive knowledge-exchange methods, such as an online web platform and database, and conducting peer-review trainings will be applied.</p>
Description
Under the leadership of Berlin and with collaboration by experts from 44 metropolises and a number of international organizations and research institutes, a manual entitled "Integrated Urban Governance: The Way Forward" was produced during the previous Metropolis Commission 3 on Integrated Urban Governance.
Tasks for a follow-on Initiative should be to intensify knowledge exchange / transfer, investigate conditions for transferability, evaluate 'transferable' case studies, and render the outcomes applicable in day-to-day practical work in Metropolis (non-)member cities.
This involves developing criteria showing in which circumstances, by which means and with which additional steps it is possible to successfully transfer practices from other cities to one's own city. For these reasons the proposal is to develop criteria and reference points with regard to transferability. The most significant working steps are to develop a web-based interactive platform, an online database, and to build up a pool of experts.
Objectives
All Metropolis member cities are challenged by socio-spatial disparities. This requires integrated governance approaches. Capacity building – a key element in Integrated Urban Governance – is to be the focus of future work activity. The Initiative involves working toward the following objectives:
Overall objectives:
optimize the effectiveness of network activities by incorporating other institutions into the Initiative's work
cooperate with other metropolises and exchange experiences by developing new instruments (e.g. the database) and institutionalizing already-trialed instruments (e.g. the peer-review training method, webinars, etc.);
Specific objectives:
identify conditions for mutual learning and transferring experiences, lessons learnt, ideas, and practice
trial and evaluate exchanges of experience
evaluate the experience already existing in the Metropolis network and make it accessible
joint representation to and/or influencing national and/or international institutions focused on urban development in order to create better framework conditions for urban governance
explain the implications for the Metropolis network and feed these insights into the Metropolis structure.
Activities
For 2013 and 2014: two meetings
peer-review trainings
web-based interactive platform for exchange
Results
As significant outcomes of the work, those cities and partners participating in the Initiative would have: a web-based, interactive platform on ″Transferability″ of Integrated Urban Governance a database system, which by means of adapted and precisely targeted information material would offer knowledge to enable cities to increase and improve the effectiveness of their own practices a pool of knowledge and points of contact by means of which a city's own ideas or projects would be able to be assessed and enhanced by experts in a targeted and cost-conscious way exchange of experiences and training elements by peer-review training meetings and web-based seminars. As for the peer-review training meetings, this involves workshops on one specific project in a city, which then in accordance with a particular procedure is assessed by experts from other cities, i.e. peers. Webinars are internet-based continuous education events.
Engagez
The Initiative will put its emphasis on lessons learnt during the work of the previous Metropolis Commission on Integrated Urban Governance, on practical knowledge that already exists in Metropolis member cities, and on experience gained by practitioners from various regions of the world. 
The Initiative seeks to cooperate with practitioners and with relevant institutions and other Metropolis initiatives and member cities. Case studies and peer-review trainings and other activities to come will be evaluated and analyzed. Thus it will be possible to identify:
policies and projects which are capable of being transferred
conditions for successfully transferring projects and policies in the field of Integrated Urban Governance.
Metropolis and other member cities, representatives of academic, scientific or other organizations, other networks and private companies are to be invited to collaborate in this Initiative.
Project Management text
Senate Department for Urban Development and the Environment. Division for EU + International Affairs
Metropolis