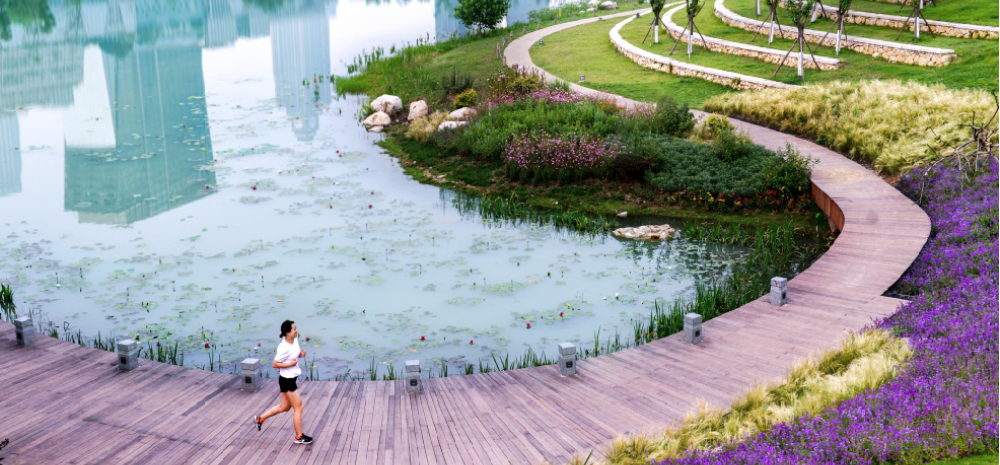 Chengdu plans big for a 'city within a park'
There are plenty of famous city parks in the world — New York's Central Park, the Luxembourg Gardens of Paris, or São Paulo's Ibirapuera Park, to name a few. But what Chengdu, a city of 20 million in southwestern China, wants to become world-famous for is something much bigger.
Chengdu, one of China's largest metropolises and the capital of Sichuan Province, is building out a vast system of interconnected parks and greenways on a massive scale. The plan is not to build parks within the city — rather, the plan is for a "city within a park." 
You can see this "Park City" plan taking shape in the Longquan Mountain Urban Forest Park, a reserve that overlooks snow-capped peaks behind glimmering skyscrapers. With plans to grow to 1,275 square kilometres, the area will become one of the world's largest urban park areas. Or you can see it along the Tianfu Greenway, a collection of biking and walking trails that eventually will connect hundreds of parks across the metropolitan area. Eventually, it will form the world's largest green path network at 17,000 kilometres long. 
These plans will be the subject of a pair of interactive webinars cosponsored by the Chengdu Municipal People's Government and Metropolis. The webinars take place 20 and 21 May, at 10.00 a.m. CET both days. Click here to learn more and register.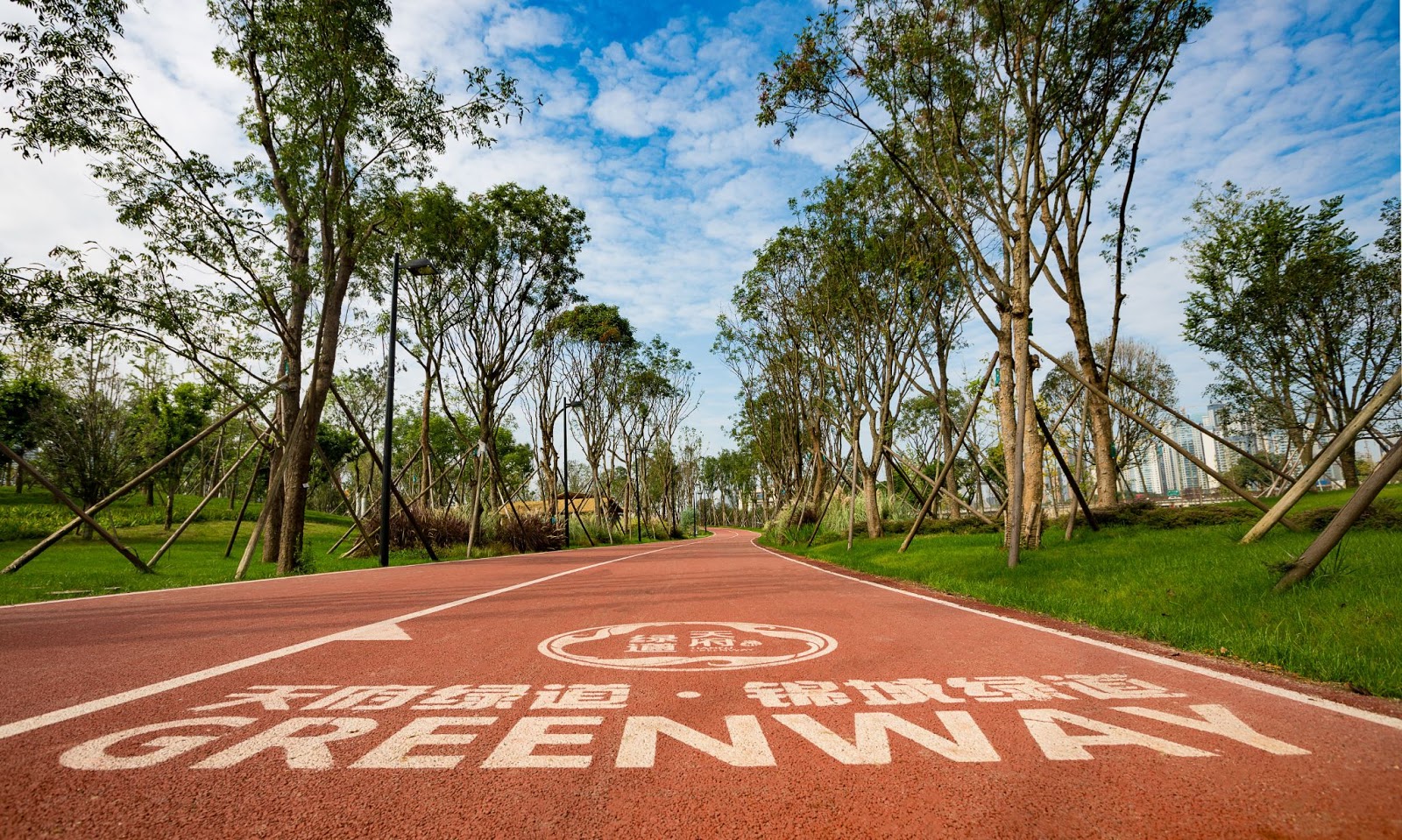 The Tianfu Greenway will eventually extend 17,000 km,making it the world's largest green path network. (Chengdu Municipal Government photo)
The Park City plan comes at a time when cities around the world are focused on growing their park systems to improve quality of life for their residents. As a recent paper from the Metropolis Observatory notes, greening urban areas is good for mental health, mitigates the impact of climate change, and enhances gender equality, among other upsides. These benefits have only become clearer during the COVID-19 pandemic, as parks have become a haven for cooped-up urban dwellers to get outside safely. 
In Chengdu, the Park City plan builds on a strong foundation of existing green gems like Renmin Park, a 110-year old urban oasis where the city's famously laid-back residents like to gather in the lakeside teahouse, stroll along flower-lined paths, and play badminton or mahjong. Chengdu is the rare megalopolis to lie just a couple of hours from habitats supporting giant pandas and snow leopards.
The Park City plan also builds on longstanding cultural beliefs that urbanisation and nature can exist in harmony. For example, an ancient and still-functioning irrigation system engineered using nature's own topography has supported agriculture and contained flooding on the fertile plains around Chengdu for centuries. The system has long supported thousands of small settlements on wooded lots, known as linpan. The result, American and Chinese researchers said in a recent paper, was essentially "two thousand years of sustainable development." 
More recently, Chengdu, like many other cities in China, has seen explosive growth in its population and economy. The city began investing in green infrastructure more than a decade ago, including a number of wetland parks linked to the many waterways that crisscross the area. These parks became natural sponges for filtering pollutants and a boon to birdwatchers who saw growing numbers of species calling the city home.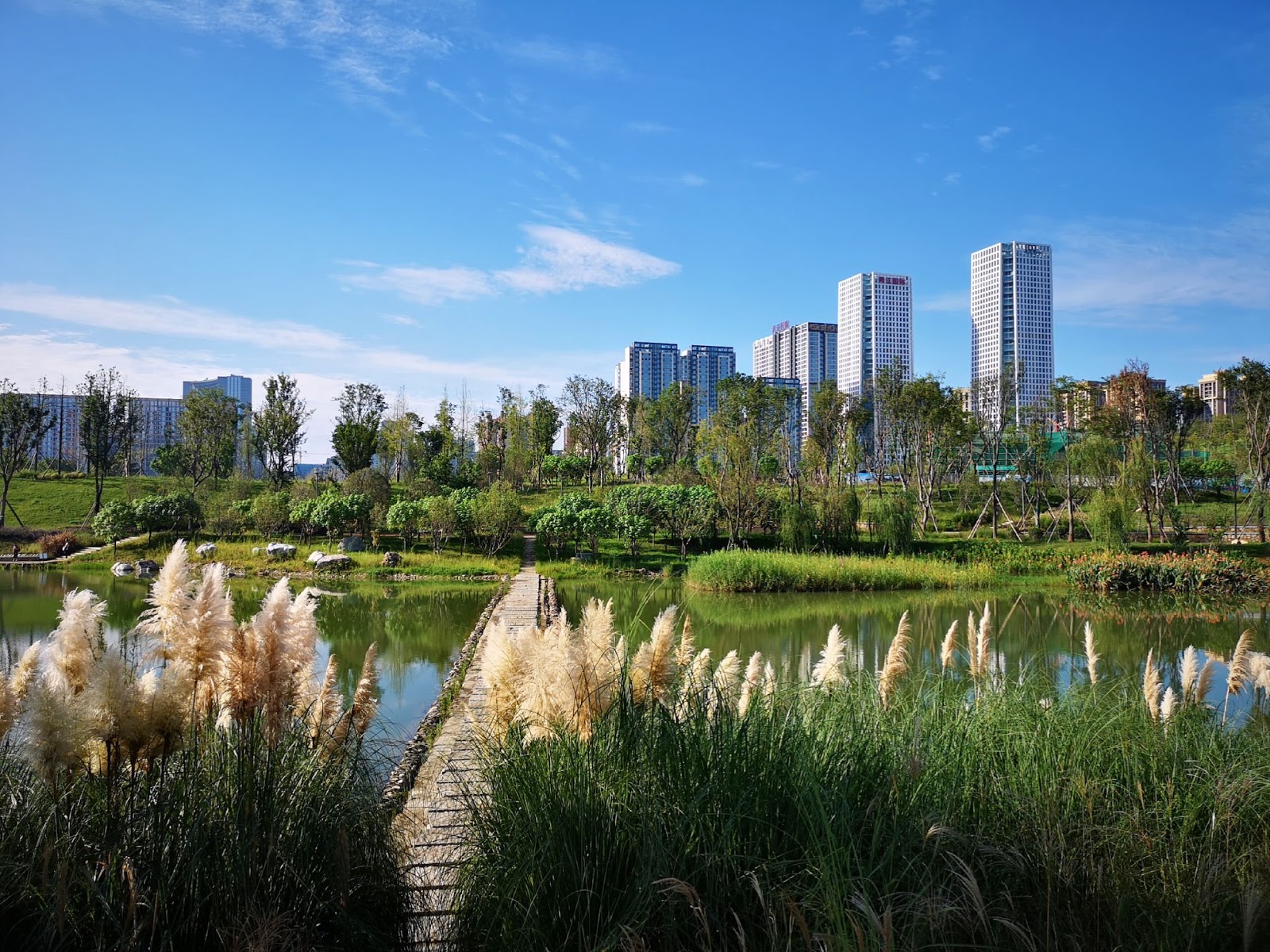 Jincheng Park is one of many wetlands that have become habitats for urban wildlife and natural sponges for filtering pollutants. (Chengdu Municipal Government photo)
These efforts took on new urgency and ambition in 2018. On a visit to Chengdu, President Xi Jinping introduced the term "Park City" and called on city leaders to take ecologically-conscious planning to a new level. The city's plans are meant to provide a new model for metropolises across China and, perhaps, much of the world. Instead of economic growth leading to environmental degradation, the idea is to show that improving the environment can lead to economic growth. 
"There's no real prosperity and development if we don't look at the planet and the people," - Salvatore Fundarò
Salvatore Fundarò, an urban planner with UN-Habitat who's worked with Chengdu on its plans describes the Park City concept this way: "There's no real prosperity and development if we don't look at the planet and the people," Fundarò says. "If we want to increase our prosperity, we have to preserve the culture and environmental aspects that make our quality of life good."
As city planners put that idea into action, one guiding idea is that greenspace should never be more than 300 metres away. In the city's dense urban core, that means building lots of mini gardens and pocket parks, and opening up some privately managed green spaces — at hotels, for example — to the public. "Gray infrastructure" like buildings, bridges, and flyovers will be "greened" by adorning them with flowers and plants
Many of the larger parks projects lie outside the historic centre, near the third "ring road" where much of the city's new real estate development is taking place. On the city's south side, a string of parks including the Guixi ecological park form a 5-kilometre cluster that some liken to Chengdu's version of Central Park. It's a popular oasis of lakes, walking paths, playgrounds, and volleyball courts, framed by a high-rise commercial district.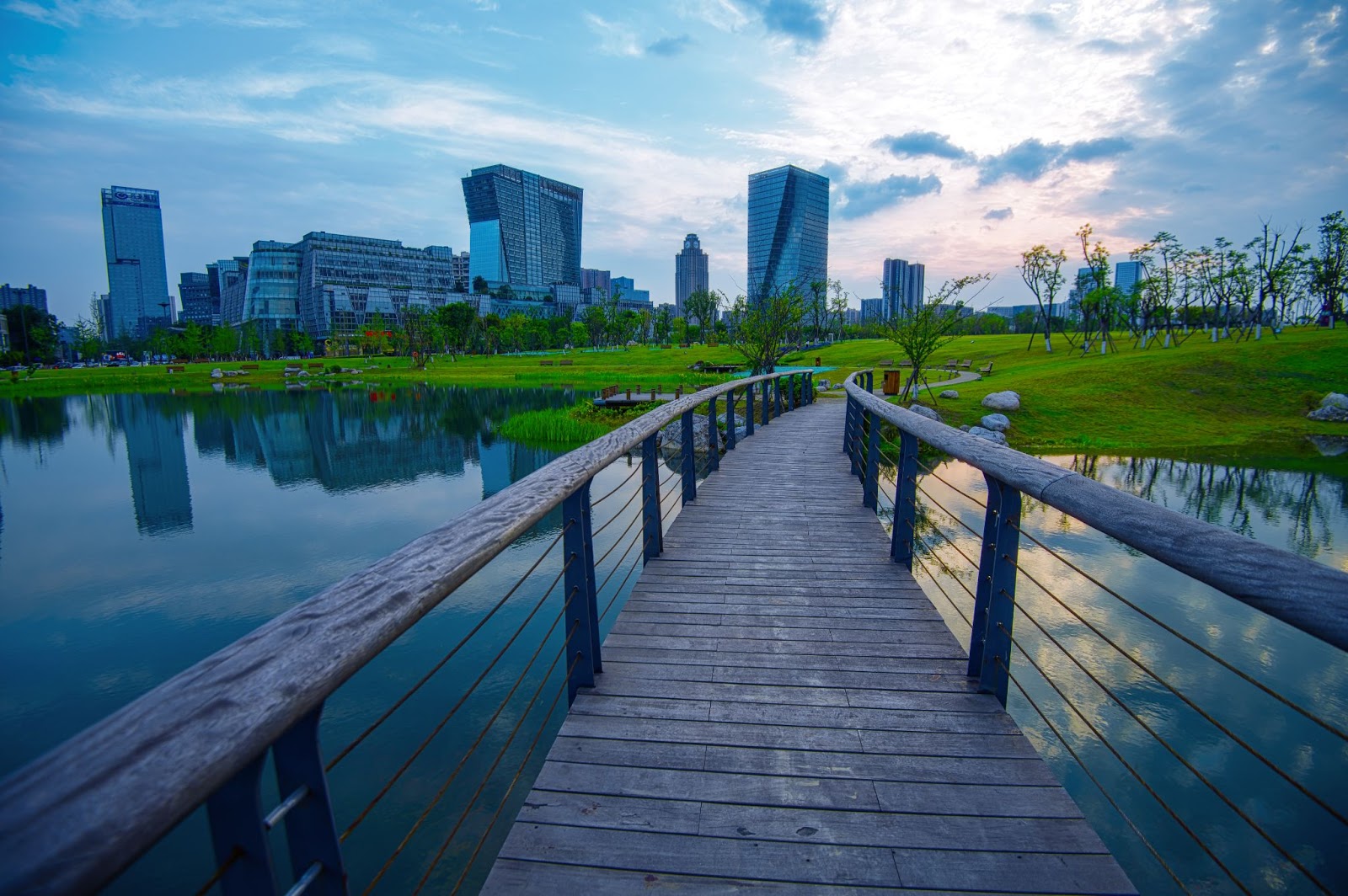 The Guixi ecological park is part of a 5 km cluster of greenspaces that some liken to Chengdu's version of New York's Central Park. (Chengdu Municipal Government photo)
Further south is another hub of Chengdu's efforts, and the place where President Xi announced the Park City concept three years ago. It's the rapidly developing district known as Tianfu New Area. A large park built around a lake anchors a commercial district of tech companies known as Science City. 
The greenway running through the area is equipped with free WiFi, and there are interactive games parkgoers can play on their phones here. It's a popular place for tech workers to take exercise breaks, or even to test out new products on people hanging out in the park.
"When I first came here, nothing attracted me more than the huge lake in front of me," Xu Yan, a tech worker recently relocated from Beijing, told China Daily. "The air here is fresh, the scenery is pleasant and the view is boundless, which makes this area an ideal place for running."
An array of agencies and partners are working on the Park City plan, including a Bureau of Park City Management leading the planning and the Chengdu Institute of Planning & Design. A number of the city's universities are involved in aspects of the project, and plans are afoot to measure progress of the Park City plan using a host of data indicators.
"The Park City concept is quite on the agenda of almost every city right now," - Salvatore Fundarò
Fundarò, who contributed to the work on data indicators, says the world will be watching to see how these plans continue to unfold over the next 20 to 30 years. "The Park City concept is quite on the agenda of almost every city right now," he says. "The thing is that in Chengdu, it will be done — and will be done at a scale that is impossible for many to imagine."
---
Want to learn more about Chengdu's Park City plan? Register for our webinars here.