Photo by shihab hossain on Unsplash
Emergency Governance Initiative for Cities and Regions
The COVID-19 pandemic has brought to light the need to respond to the most pressing issues of our societies. Access to adequate housing, public and green spaces, services and infrastructure are strongly connected to the health crisis and other emergencies, such as climate change and inequality. In the current context, upgrading our governance structures is more important than ever to find solutions to these challenges and better respond to people's needs.
To support local and regional governments in this endeavour, Metropolis, United Cities and Local Governments (UCLG) and LSE Cities joined forces in mid-2020 to launch the Emergency Governance Initiative for Cities and Regions (EGI).
Through an in-depth analysis of the governance implications of emergency response and recovery strategies of our urban territories, EGI aims to support local and regional governments' response to future emergencies by building greater institutional capacity.
The initiative builds on lessons learned and good practices shared in the website Cities for Global Health and the CitiesAreListening initiative developed by Metropolis and UCLG, in partnership with the USE Platform and Global Observatories.
Publications
Policy Briefs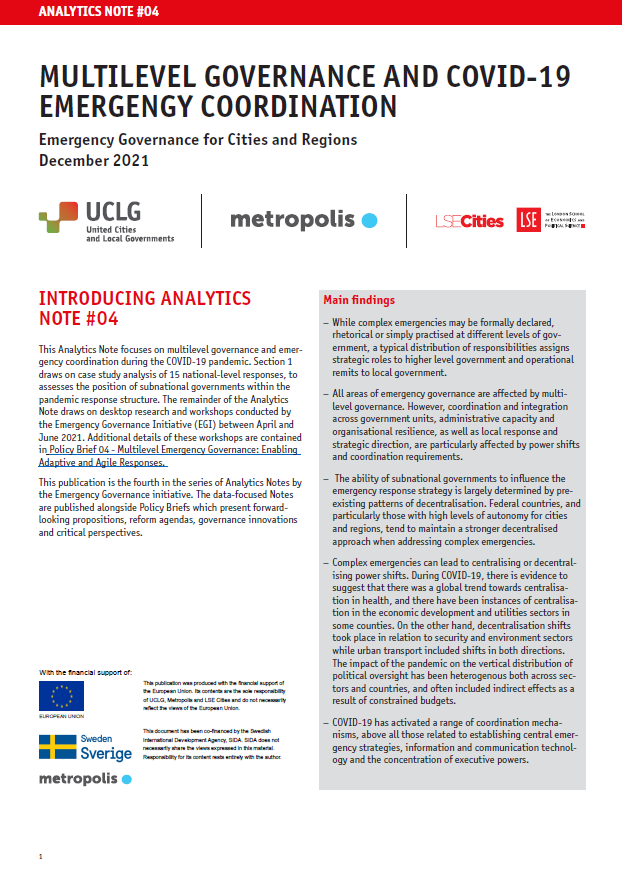 Multilevel governance and Covid-19 emergency coordination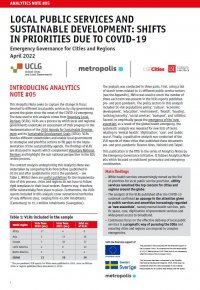 Local public service and sustainable development
For further information, please contact Mr Oscar Chamat, Research and Policy Officer
at the Secretariat General ochamat@metropolis.org
With the financial support of:

This publication was produced with the financial support of the European Union. Its contents are the sole responsability of UCLG, Metropolis and LSE Cities and do not necessarly reflect the views of the European Union.

This document has been co-financed by the Swedish International Development Agency, SIDA. SIDA does not necessarily share the views expressed in this material. Responsability for its content rests entireli with the author.