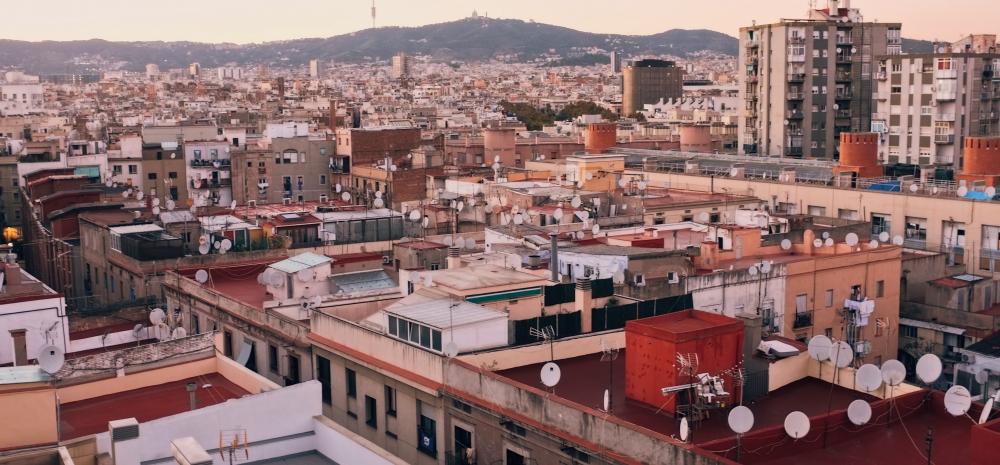 Stijn te Strake on Unsplash
With Energy Transitions, Metropolitan Areas in Barcelona, Lyon, and Montevideo Find Common Cause
Cities are responsible for more than 70 percent of the world's greenhouse gas emissions, according to the C40 Cities Climate Leadership Group — and they're also where climate solutions can make the biggest difference. But whether it's switching to electrified transport options or promoting renewable energy, the choices city leaders face do not stop at the city limits, which is why metropolitan cooperation is so important in the energy transition.
Ana Romero Càlix knows this well. As the head of climate change and environmental awareness for the Barcelona metropolitan government, known by its Catalan and Spanish initials as AMB, she oversees the climate strategy for all 36 municipalities that make up the greater Barcelona area's 3.2 million inhabitants. Under her leadership, the metro area has prepared an action-oriented climate and energy plan and regularly convenes meetings of critical technical staff to keep all of the municipalities moving in the same direction. AMB also launched an ambitious effort to boost solar energy production from rooftops, which led to the installation of Spain's first bidirectional solar charging station.
To get to the next level, AMB's climate chief believes it's critical to learn from other metro areas. That's why she catalyzed a global exchange of ideas on this topic through a Metropolis program called "Pilot Projects." The partnership with her counterparts in the metro areas of Lyon, France, and Montevideo, Uruguay, created unique opportunities to share experiences from different contexts and learn from each other in workshops from 2017 to 2019. As a result, Romero and her partners have a deeper understanding of what's needed for the energy transition.
"In Lyon, we were impressed with how data is shared between private operators and public administrators," Ana Romero Càlix, AMB
AMB and its partners called their partnership MEGA — it stands for Metropolis Energy Governance. To document their learnings and share them with metropolitan leaders around the world, they drafted a playbook of challenges faced and strategies for overcoming them. For example, to enhance AMB's ability to negotiate with the private sector, Romero looked eagerly to Lyon's experience with running its own metropolitan heating, cooling, gas, and electric distributor. "In Lyon, we were impressed with how data is shared between private operators and public administrators," she says. "The French have another relationship with the private sector compared to Spain."
By contrast, Lyon's metropolitan governing body has a different relationship than AMB does with the municipalities surrounding the urban core. "Contact with city councils is very difficult in Lyon," Romero says. "Lyon asked us a lot about the technical roundtables and how we organize the meetings."
In Montevideo, meanwhile, AMB envied the synergy between the Uruguayan national government and local decision makers. Thanks to an ambitious national push into biomass- and solar-based power, as well as an existing base of hydroelectric production, Uruguay gets 95 percent of its electricity from renewable sources. "There, it is very easy to take action," she says. "Money from the state comes in, then they invest and execute."
MEGA's success laid the groundwork for Metropolis to secure funding from the European Commission to lead a new cooperation project whereby AMB and Madrid will assist fellow Metropolis member Dakar to carry on its transition to sustainable energy across the metropolitan area of the Senegalese capital.
Back in Barcelona, Romero is focused on overcoming obstacles to switching to renewable energy. This challenge has her navigating something of an intermediate role for AMB, between a national government that has privatized the electricity sector and individual municipalities, which do not have much leverage to negotiate with energy companies.
One opportunity comes from the city of Barcelona, whose mayor, Ada Colau, is also president of AMB and co-president of Metropolis. Two years ago, the city launched its own public energy company, Barcelona Energía, that only sells renewable energy. Romero is encouraging other cities to become customers. It's been a tough sell so far, as private companies have been able to offer lower prices, but that may change later this year when long-term energy contracts expire and municipalities begin entertaining new offers.
AMB's climate head also is making a big push around solar energy. In a built-up metro area with little free land, that will mean using rooftops. AMB recently issued a tender to study how many square meters of rooftops might be available for solar panels and whether investors would be interested in the opportunity. 
As Romero dreams of a metropolitan energy distributor on the scale of the one in Lyon that could work at the scale of the private-sector energy companies, she must also confront the legal reality in her home country. "Spanish law is very complicated so our hands are tied," she says.
For example, Spain's 2015 "sun tax" charged the owners of solar panels for the energy they consumed, effectively penalizing renewable energy until it was repealed in 2018. But even as Spain's renewable sector dragged, it is poised for a jumpstart following the June 2020 adoption of the new Spanish Energy Plan that calls for new renewable energy generation facilities with an installed capacity of approximately 60,000 MW this decade, with an estimated investment of more than €90 billion.
"It's good to learn about other places to see how we should change our own laws," Ana Romero Càlix, AMB
The idea that three metropolitan governments have something to learn from each other even if their respective countries operate with entirely different energy laws is evidence of the power of metropolitan cooperation. While on the surface, legal differences may seem to preclude much peer-to-peer learning, once the conversation begins, counterparts in different metropolises find they have more in common — and more to learn from one another — than they might have expected. "It's good to learn about other places to see how we should change our own laws," Romero says. "It's certain we'll knock on Lyon's door again."