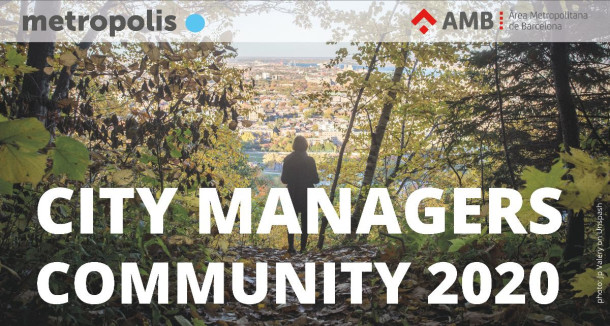 City Managers Community 2020: green infrastructures webinar
The Metropolis City Managers Community is loaded with new and dynamic activities in 2020. This year, Metropolis is fostering the engagement of the top leaders from our membership who are in charge of the day-to-day management of green infrastructure - in the various forms, functions, scales, and impacts that "green" can have in major metropolises.
This webinar is the second activity of the City Managers Community in 2020 and represents the intermediate step of a process which will culminate with the celebration of the 5th edition of the City Managers Days, scheduled for November 2020, in the framework of the Smart City Live 2020. 
Exclusive to the representatives of the Metropolis membership who took part in the Green Infrastructure Metropolitan Portrait survey (open from 11 June to 6 July 2020), this online session will offer to a small group of people with similar responsibilities in their metropolises the opportunity to:
get to know each other 
discuss the consolidated findings of the survey
exchange additional information about their green infrastructure flagship projects
delimit the topic and dynamics of the next activities, scheduled for November
Practical info
When: Thursday, July 16, at 12:30 UTC - Coordinated Universal Time (please check your corresponding local time here)
Where: online (via Zoom, with access link provided only to invited members)
Languages: English and Spanish, with simultaneous interpretation available
Agenda (in UTC)
Moderation: Alexander Heichlinger, Senior Expert and Consultant in city management
12:30 Opening address
Octavi de la Varga, Metropolis Secretary General
 
12:35 Brief round of introductions of all the City Managers - in alphabetical order of the metropolises represented (1 min each):

Barcelona (metropolitan area): Antoni Farrero
Barcelona (municipality): Margarita Parés
Bogotá: Diego Rubio
Cairo: Ahmed Saad
Chengdu: Liu Suman
Greater Manchester: Rachel Morrison
Guadalajara: Martín García
Madrid: Emilio Martínez
Montréal: Guy Trudel
Ramallah: Malveena Al-Jamal
Rio de Janeiro: Débora Barros
San Salvador: Ingrid Alfaro
Tehran: Shina Ansari
 

12:50 Introduction of the theme and key findings of the "Green infrastructure metropolitan portrait" survey
Alexander Heichlinger, Senior Expert and Consultant in city management
 
13:05 Presentation of 6 selected flagship projects* by the city managers of:

Barcelona metropolitan area
Socio-environmental recovery of the Llobregat River
Antoni Farrero, Infrastructures Coordinator
 
Chengdu
Park City Initiative
Liu Suman, Programme Manager
 
Madrid
Metropolitan Forest
Emilio Martínez Vidal, Senior Advisor of the Strategic Planning Direction
 
Cairo
Green infrastructure to detect water leakage and reduce losses
Dr. Ahmed Saad, Under secretary in the field of infrastructure, General Organization for Physical Planning (GOPP)
 
Rio de Janeiro
"Mutirão Reflorestamento" program (community reforestation taskforce)
Débora de Barros Augusto, Green Areas Coordinator
 
Montréal
Bio-retention systems of the Avenue Papineau
Guy Trudel, Project Urban Designer
 

13:40 Q&A
Open to all the City Managers
 
13:55
Next steps & closure - Lia Brum, Metropolis Observatory Officer
*The flagship projects were selected among the responses to the "Green infrastructure metropolitan portrait" survey, based on the following criteria: completeness of the information provided in the survey, representation of different typologies of green infrastructure, representation from different regions of the world, and gender balance of speakers.
For further inquiries about this activity, please contact Ms. Lia Brum at the Secretariat General.