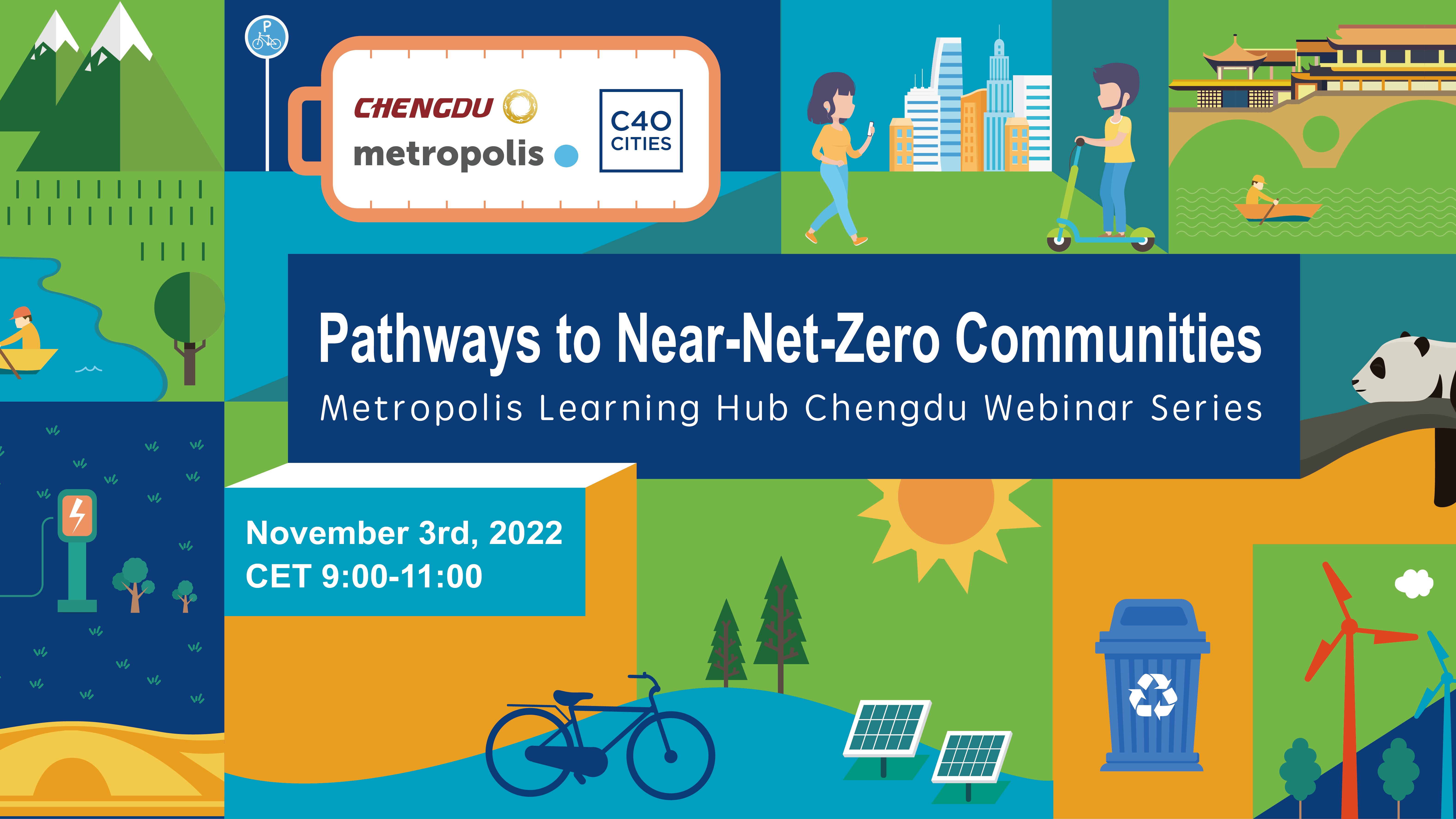 Creating a Net Zero Community
Online
Contents
Working towards the 2030 peaking goal and long-term carbon neutrality China's national goal, local governments have a critical role to play in helping to implement policies on the ground and establishing an enabling environment for stakeholders to increase contributions to net-zero.
To achieve peaking and carbon neutrality goals, and explore a near-net-zero solution that adapts to local conditions, the city of Chengdu released the Work Plan for Pilot Near-Net-Zero Communities in March 2022, targeting to create 10 near-net-zero communities in 2022 and 30 more by the end of 2025.
In July 2022, Chengdu joins hands with C40's Green and Thriving Neighbourhoods Network. The two parties, together with the Science and Technology and Industrialisation Development Centre of China's Ministry of Housing and Urban-Rural Development, will work jointly on a pilot net zero community project in Chengdu.
On the eve of the COP27, Metropolis Learning Hub Chengdu with the support of C40 and Chengdu's Municipal Commission for Urban and Rural Community Development and Management organised a webinar under the tittle " Pathways to Near-Net-Zero Communities", a way to address climate change not only a local and neighbourhood level. 
The objective of the session was to provide knowledge on how to design good public policies to help foster favourable climate for green transition and guidelines that help grass-root communities navigate their way to net zero transition. That is exactly what Luke Sherlock from C40 Cities pre-recorded video message was meant to: providing 5 key elements to make urban public space accessible, inclusive, cohesive and green and so to harness for low carbon urban development.
On the other hand, Chengdu representatives presented its initiatives at the neighbourhood scale such as "Chengdu's Near-net-zero Initiative at Community Scale" and "Chengdu's low-carbon programme within the framework of Park City Initiative, featuring complete neighbourhoods and the 15-minute city"
On the European side, Madrid presented the Madrid 360 Environmental Sustainability Strategy and how private and public transport modes are being changed to reduce emissions and to return public space to the people.
For more information, you can read the programme and watch the recording of the event. 
Speakers
Ms. Li Li, Vice Director General, Chengdu Foreign Affairs Office 
Mr. Lei Ke Vice-Director, Commission for Urban-Rural Community Development and Governance of CPC Chengdu Municipal Committee
Mr. Luke Sherlock, C40 Director of Urban Planning & Design
Ms. Yao Nan, Deputy chief engineer of Chengdu Planning and Design Institute
Lola Ortiz Sánchez, General Director of Mobility Planning and Infrastructures, Madrid City Council
Mr. Jordi Vaquer, Secretary General of Metropolis 
Topic
Sustainability and climate change