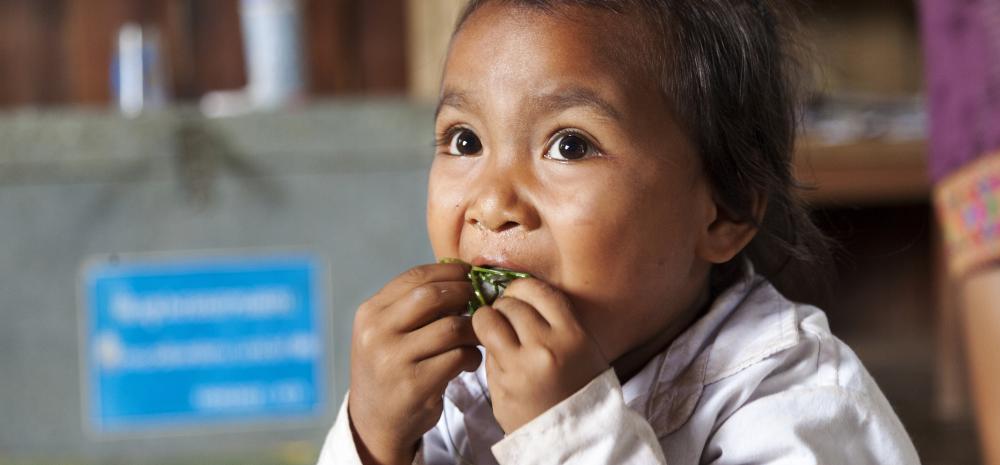 Bart Verweij, World Bank on Flickr
Building a global movement to reduce food waste
On the way from our farms to our plates, as much as one-third of all food produced globally goes to waste. Either in developed or developing countries, these levels of food waste is higher in urban areas, and urbanization trends in the world suggest that this issue will only increase in the near future if left unaddressed. That unnecessary loss of nutritious food is a brutal fact in a world where 690 million people are undernourished — a hunger crisis that climate change, violent conflicts, and the COVID-19 pandemic are only exacerbating.
Jim He is working to change this dynamic, one vegetable at a time. Jim is a social worker in the Social Welfare Department of New Taipei City, which with more than 4 million people is Taiwan's largest metropolis. He coordinates an ambitious municipal program that has become a model for how cities can divert edible but blemished food from landfills and encourage less wasteful ways of cooking and eating.
The program is called the "Surplus Food Network." At its core is an array of partnerships with food markets, where volunteers sort and gather "off-grade" fruits and vegetables that are "unsellable" because of discolorations, odd shapes, or other imperfections. The produce is packed in refrigerated trucks and delivered to kitchens in community centres, where volunteer chefs and culinary students cook meals for the elderly and disadvantaged youth. The approach has not only used up 580 tons of food that otherwise would have gone to waste, but also prepared 800,000 meals for people who need them.
The approach of New Taipei City includes other facets. The program enlists restaurants to put off-grade produce on the menu and function as sales and distribution points for consumers to buy organic products directly from farmers. In schools, children learn about the modern complexities of food supply chains; in the school canteens, portion sizes are limited to what nutritional guidelines say children should be eating, and students learn to empty their plates. "We've not only raised awareness" around reducing food waste, Jim says, "but are actually creating a movement."
Jim wanted to join that local movement in New Taipei City with the larger global movement emerging around reducing food waste in cities, most notably the Milan Urban Food Policy Pact. Through a Metropolis programme called " Pilot Projects ," he and several of his colleagues connected with peers leading similar programs in Medellín, Colombia, and Quito, Ecuador. Although they were public servants from different continents, they shared the same goal of learning from each others' experiences in order to make their programmes more impactful for their residents back home.
The group began meeting online in January of 2018, and met in person for the first time in Quito later that year. In the Ecuadorian capital, they visited a daycare center, a food bank, and other sites where surplus food gets turned into meals for residents in need as part of a municipal effort called the Participatory Urban Agriculture Programme. Jim also learned how some surplus fruits are processed into fruit juice and jam. That innovation sparked an idea that New Taipei City is currently exploring: extending the shelf life of surplus food by preparing it into packets that can be frozen.
Jim also was impressed by Medellín's work on food distribution, particularly a programme the city and its partners are building that will connect farmers directly with consumers. The internet-based platform, called the "Alliance for Good Living", has the potential to not only reduce the amount of food lost in transportation but also to boost farmers' incomes. "It creates a win-win situation for multiple parties," he says.
The international exchange group convened in New Taipei City the next year. They toured a food market where volunteers sort out off-grade produce, visited a community kitchen, dined at a restaurant that prepares meals using surplus food, and sat in on an inter-departmental meeting of city leaders to get a flavour of the behind-the-scenes coordination that goes into New Taipei City's programme.
Jim says his South American counterparts were impressed by several components of New Taipei City's efforts. For one, they were inspired by the enthusiasm of businesses and civil society to participate in the programme. For another, they were intrigued at the use of refrigerated trucks, especially how these vehicles make it easier to transport surplus food throughout the city without spoiling. And they appreciated the level of collaboration they observed between the Social Welfare Department and five other bureaus to keep food out of the waste stream. "They were positively surprised to find that we have this inter-departmental coordination that makes the project implementation smooth and efficient," Jim says.
After the visits, participants of the pilot project prepared a report on what they learned from each other — and what other cities around the world can learn from them. The experience, Jim says, was a valuable way for New Taipei City to share a homegrown solution with the world and pick up new ideas for how to improve.
"This kind of experience of international exchange is valuable and necessary for a public servant like me," Jim says. "Going forward, when we want to adjust or optimize our policies and solutions, we will definitely take what we learned from our partner cities into account. Ultimately, that will help us make the city a better place."