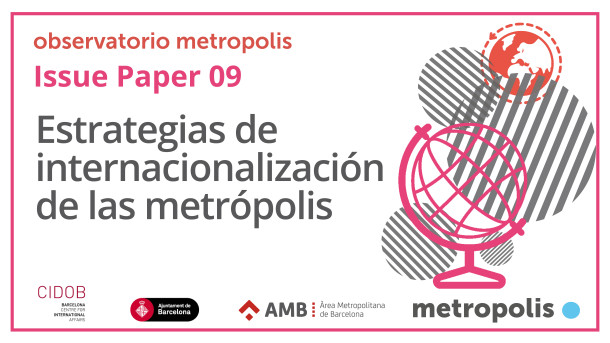 Strategies for the internationalisation of metropolises
In a global economic context, and increasingly urban, cities, and especially large cities and metropolitan territories, have an increasingly important political and economic role, not only in their own territories but also in the international sphere. The gradual consolidation of the international action of the metropolises has been accompanied by their transversalisation within the framework of the institutional, political and territorial objectives of the metropolitan institutions themselves, which in turn has led to the conversion of a public policy. A policy that needs to be governed and respond to well-defined strategies aimed at addressing the interests and aspirations of the metropolitan space and its citizens.  
This session will include the public presentation of the Issue Paper "Strategies for the internationalisation of metropolises" and an introduction to the comparative study by its authors. In addition, to create a space for dialogue that synthesises the different models of internationalisation strategies included in the two aforementioned studies, and to discuss the different experiences and examples that both publications highlight.  
You can read here the concept note (English version / Spanish version)
To register for the event, please send an e-mail to activitats@cidob.org , including the reference to the event, name, surname and institution.
Venue: Barcelona Centre for International Affairs CIDOB, Carrer d'Elisabets, 12, 08001 Barcelona
Draft Programme - 19 December 2019
17h Welcome to the event by 
Mr. Octavi de la Varga, Metropolis Secretary General [5']
Mr. Pol Morillas, Director of CIDOB [5']
17h10 Presentation of:
Issue Paper 9  by Ms. Paola Arjona, Technical Director of AL-LAs [20']
Key note on the international action of the metropolitan areas by Mr. Agustí Fernández de Losada, Director of Global Cities, CIDOB [20']
Questions/Debate
18h Round table with:
Ms. Isabel Arnet, Head of the Municipal Office of the Airport's Monitoring and European Projects
Ms. Pilar Conesa, founder and CEO of Anteverti consulting firm
Mr. Oriol Illa, Head of International Relations and Cooperation of AMB
Mr. Felip Roca, Head of International Relations of Barcelona
Moderator: Ms. Eva García, scientific coordinator of the Global Cities Programme - CIDOB