Short title
Mentoring on Upgrading Informal Settlements
Images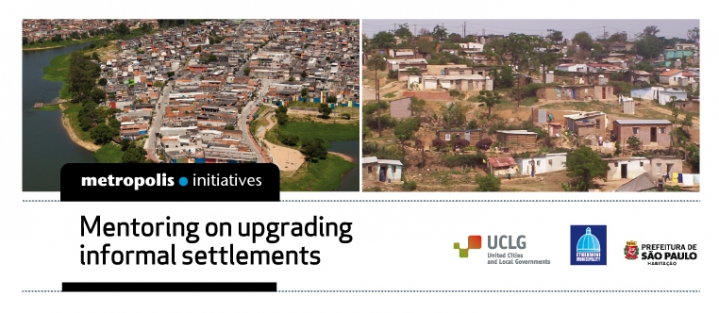 Aim
<p>The Initiative applies practical experiences from São Paulo housing policies to Durban, as the two cities have been exposed to accelerated urban growth which has led to informal settlements. It also offers lessons for African cities aiming to move from a delivery approach to integrated solutions.</p>
Description
This Metropolis Initiative, led by Durban, São Paulo, and United Cities and Local Governments (UCLG), was identified and designed by following up on a learning event run by UCLG and Metropolis in Durban, where the history of service and housing in informal areas in São Paulo and other Brazilian cities was highlighted as a relevant experience for African cities.
Durban wants to learn more from São Paulo about the following topics:
What planning tools are applied in the prioritization and upgrading of settlements
What strategies the cities use to acquire suitable land
What financing methods are applied
The planning and building standards used
How communities are involved in planning, development, and management throughout the project cycle
How projects are linked to job-creation initiatives
The São Paulo/Durban city-to-city learning exchange draws on the UCLG mentoring program methodology framework, driven by its Strategic Planning Commission. The program has proved to be very beneficial, allowing the sharing of experiences and lessons learnt, both negative and positive.
The project builds on the two cities' strong commitment and is expected to serve as a pilot experience for the current reform process of South African and African housing policies. Adequate housing is considered crucial for poverty reduction, but only integrated responses that include social services, local economic development, and empowerment can be sustainable.
A feasibility assessment will be undertaken to test whether the lessons learnt can be piloted in one or more of the Durban-managed informal settlements.
Objectives
The main goal is for Durban to learn from São Paulo's experiences of servicing and upgrading informal settlements (favelas) and the planning, building, participatory, and financing methodologies and tools applied. This topic is very relevant to many cities in southern Africa, as identified through initiatives undertaken by both Metropolis and UCLG.
Further, it is also envisaged that through this Initiative the lessons learnt can be shared with other South African cities and national and provincial departments responsible for human settlements with the intention of suggesting meaningful changes to the policy and planning environment in South Africa in support of informal settlements.
Through the Municipal Institute of Learning (MILE), Durban would make its experience available to other South African cities (via networks such as the South African Cities Network and SALGA). A further aim of this proposal is to upscale these learning experiences internationally through Metropolis and UCLG so that other cities may benefit from the knowledge created by the Initiative.
Activities
Start/end dates of the project:
August 2011 / December 2014
Total duration of the project:
3.5 years
Main activities:
Technical visits between São Paulo and Durban
Establishment of the mentoring program and specification of the project scope (road map).
Workshops open to other African cities
Joint meetings with UCLG Strategic Planning
Final report with recommendations to be upscaled
Provisional timetable
Date
Duration / Human Resources
Phase / action
August 2011 - September 2011
4 weeks
Visit by São Paulo to Durban to draft the project and design the roadmap and project specification
September 2011 - December 2014
3.5 years
Follow up e-mail contacts / Ongoing learning and collaboration
November 2011
Durban officers: 7 days in São Paulo
Durban officers: 4 days in Porto Alegre
"Slum Lab" in São Paulo and field trips to projects of the State of São Paulo UCLG learning event at the Metropolis World Congress in Porto Alegre
December 2011 - February 2012
3 months
Outcomes Report on the project and the expectations, objectives, and targets for the pilot project
February 2012 - March 2012
8 weeks
Workshop 1: Planning for and conducting a two-day workshop with key planning, housing, and social-delivery institutions in South Africa to share information with the institutions and cities about policy shifts and implementation changes.
April 2012
10 days
Assessing and identifying a suitable pilot project for implementation.
June 2012
São Paulo officers: 10 days in Durban
Project planning and design, São Paulo and Durban officials plan and design pilot lessons and outcomes from São Paulo, with relevant adaptation for Durban.
November 2012
São Paulo officers: 10 days in Durban
Enhancing skills for project planning, design, social engagement, and implementation
December 2012
1 day
Workshop 2: UCLG Strategic Planning Commission meeting, sharing the knowledge produced by the Initiative to other African cities in the framework of the 6th Africities Summit
May 2012 - December 2014
32 months
Implementation of the pilot project with regard to agreed project objectives and targets, with the collaboration of provincial and national-managed human settlements.
February 2013
São Paulo officers: 7 days in Durban
Detailed design of the workshops and assessment of the state of readiness for implementation. Internal project review, prior to construction.
June 2014
4 days
Workshop 3: International Learning Exchange for southern Africa on Policy and Practice for upgrading Informal Settlements
September 2014 - November 2014
2 months
Planning, Design and Implementation, and Policy Recommendations Report
Final Project Close Out Report
Results
Durban Municipality could accelerate its informal settlement and upgrading programs by adopting new and innovative approaches toward informal settlements that are integrated and participatory, and which involve sustainable planning and financing.
The experience could be shared with other cities via MILE, targeting South African cities through networks such as the South African Cities Network and SALGA.
The experience could be shared through Metropolis and UCLG networks and help improve the quality of human settlements internationally.
There would be an assessment to test whether the lessons learnt from the exchange can be piloted in one or more of the Durban-managed informal settlements. The detailed nature of this pilot experience, its scope and target audiences, will be a key output of this process.
Final report with a set of clear policy recommendations to be promoted by Metropolis and UCLG.
Engagez
Brazil's experiences in slum upgrading have made history and been widely promoted in the international development community. However, the application and transfer of such experiences is a challenge that requires prepared and committed partners to produce tangible results. We call on Metropolis and UCLG members to follow this Initiative closely, as it takes city-to-city learning to a different level. 
Although officers from Durban Municipality will be the main beneficiaries of this Initiative, the aim is to upscale the lessons learnt to other cities in order to improve the quality of life of the residents of informal settlements. 
The dissemination of the knowledge produced by this Metropolis Initiative will target specifically South African cities via networks such as the South African Cities Network and SALGA and other southern African cities via the Durban Municipal Institute for Learning (MILE).
Metropolis and UCLG will promote the policy recommendations internationally through a series of sharing and learning workshops open to members. A final publication will also be published jointly with Durban and São Paulo.
Other cities and donors can also profit from this south-to-south / city-to-city innovative cooperation scheme promoted by Metropolis and UCLG, learning from the experience and engaging in the mentoring program with new ideas and projects. 
Project Management text
Durban Municipality
Subhathri Moonsammy: Head of Development Planning and Management
São Paulo Municipality
UCLG – United Cities and Local Governments
Metropolis