Short title
Walking together
Images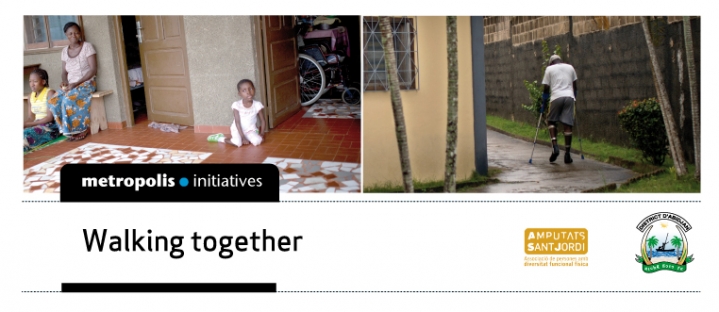 Aim
<p>Cooperation between the Sant Jordi Amputats Association, the Metropolis Women International Network and local governments to foster the roll-out of orthotics and prosthetics centers for victims of amputation</p>
Description
This Metropolis Initiative proposes improving social care for persons with physical or functional disabilities or organic disorder in Metropolis member cities which face a post-disaster context (e.g. armed conflict, natural disaster) and high risks of social exclusion. The first recipient city will be Abidjan, which will harness the knowledge of the Sant Jordi Amputats Association from Barcelona to establish the infrastructure required to develop an orthotics and prosthetics center of its own, as a benchmark for Africa.
Objectives
- Foster and facilitate the transfer of knowledge to provide the infrastructure needed for orthotics and prosthetics centers in target Metropolis member cities.
- Offer training from the specialists of Amputats Sant Jordi association to specialists in Metropolis member cities g from specialists, in order to organize local orthotic and prosthetic capacity and infrastructure.
- Supply orthotics and prosthetics materials to carry out the adaptations needed for the project's targets.
Activities
· Professional training
· Supply of orthotic and prosthetic materials
· Establishment or development of an orthotics and prosthetics center
· Onsite trips to find out the particular requirements of the target city and to determine the project duration and phases: diagnosis, training, implementation, development and evaluation
Results
Provision of Metropolis member cities in post-disaster context with a particular number of professionals trained in the area of orthotics and prosthetics, depending on the needs and resources available. Establishment of a model of orthotics and prosthetics center which is suitable for the socioeconomic characteristics of the recicipient Metropolis member cities. Improvement of the quality of life of a significant number of victims of amputation, to be determined on the basis of knowledge, regarding the needs and economic possibilities of the recipient Metropolis member city, once an onsite diagnosis has been made.
Partners
City of Barcelona: Department of International Relations and Cooperation, Women and Civil Rights Secretariat