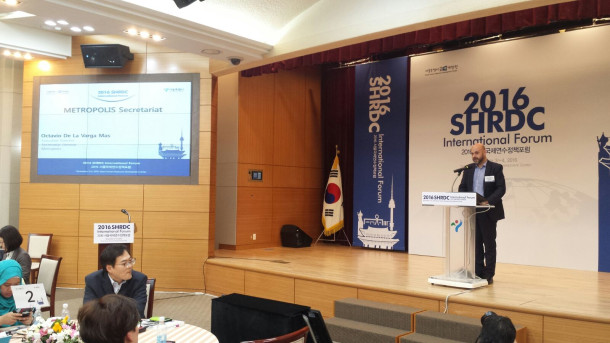 Metropolis Secretariat General
SHRDC International Forum 2016 displays policy sharing among Metropolis members
The 2016 SHRDC international Forum  "Policy Sharing with International Training Programs and its further Improvement" was held at Seoul Training Center (SHRDC) from 3 to 4 November 2016. 
Organized by Seoul Metropolitan Government, the Forum touched based on what the city of Seoul has achieved through the implementation of the Metropolis global training institute (MITI) and through the sharing of Seoul's policies in different areas such as Transportation,Water Management, EGovernment, Urban Railroads, Environnement, Emergency Management.
Executive Director Octavi de la Varga presented the Metropolis training program new strategic orientations which were endorsed by our last Board of Directors held last October in Bogota, Colombia. Within the new guidelines set up by the New Urban Agenda for the two coming decades, training remains a key tool and asset for city leaders,managers and policy makers to better the way they rule, manage and plan their metropolitan areas.
Since the inception of the Metropolis International Training Institute in 2013, Metropolis has been paving the way towards improving cities management through a robust Capacity Building program led by the 5 Metropolis members: Cairo (HBRC), Masshad (ISCO) Mexico City (EAP) Paris Region (IAU) and Seoul (SHRDC).
Invited by Seoul Metropolitan Government, five Metropolis members presented a significant project in partnership with the city of Seoul:Yakarta (Smart and Sustainable City), Shanghai (Strategic Thinking in Planning a Global City), Teherán (sustainable mobility), Katmandú (Public Transportation) y Bangkok (Watwerworks).
The Metropolis delegation met with the President of the MITI Mr Ahn, the new Director of SHRDC Mr Won, key officials from Seoul Metropolitan Government (SMG) and from the Seoul Urban Solutions Agency (SUSA). Seoul shows its interest in participating and beeig showcased during the XII Metropolis World Congress in 2017.