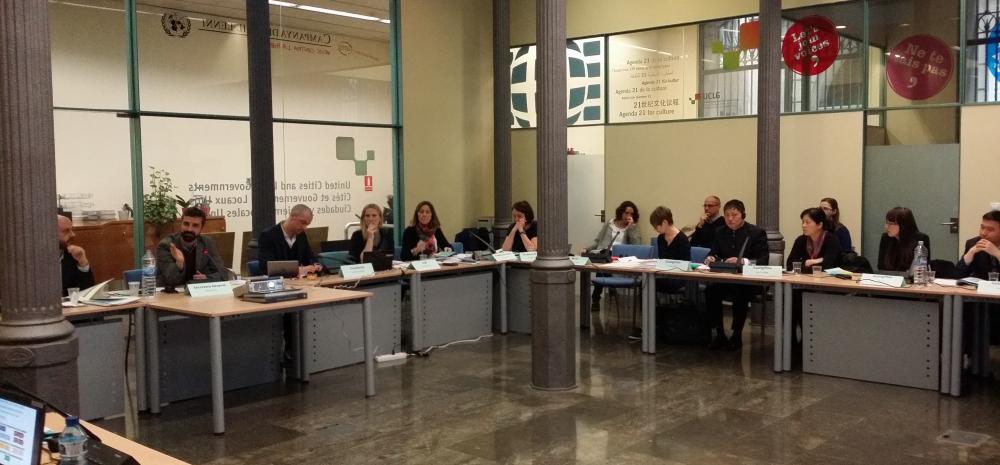 Metropolis Secretariat General
On 23 February, the annual meeting of the Metropolis regional secretariats was held at the UCLG retreat, which took place in Barcelona from 20 to 24 February with politicians, regional secretaries and other representatives.  This allowed for new synergies to be forged between the two organisations and for sharing among the participants.
With the presence of secretaries for North America (Mariana Flores), Europe (Barbara Berninger), Asia-Pacific (Liu Baochun), representatives of the treasury (Anne Claes and Sophie Willaumez), the presidency (Simon Langelier) and the co-presidency of the Barcelona Metropolitan Area (Oriol Illa and Helena Miralles), the meeting aimed to lay the groundwork for the Metropolis Action Plan for 2018-2020 and to prepare for the statutory session that will take place in Montréal from 19 to 22 June 2017. This year, these meetings are particularly important with the renewal of the Board of Directors - including the presidency of the association - and appointment to the position of Secretary General of Metropolis.
In addition to these topics, the roles of the regional secretariats and co-presidencies were discussed, taking advantage of the association's new strategic approach and the new internal structure of the Secretariat General, which should provide much more active, specific guidance for these roles.
The next meeting of the regional secretariats will take place in Montréal on 19 June 2017.
Visit: montreal2017.metropolis.org