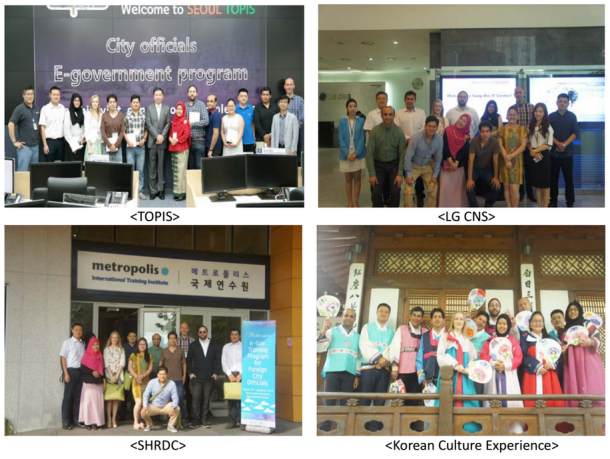 Seoul Human Resource Development Center (SHRDC)
Outcome: E-Government Training Program for Foreign City Officials
Outcome: E-Government Training Program for Foreign City Officials
The Seoul Human Resource Development Center (SHRDC), which hosts the headquarters of METROPOLIS International Training Institute (MITI), has successfully conducted "the e-Government Training Program for Foreign City Officials" from August 19 to August 20, 2015. 
With 12 participants from Sao Paulo (Brazil), Guangzhou (China), Wuhan (China), Pelileo (Ecuador), Quito (Ecuador), Shiraz (Iran), Jakarta (Indonesia), Ulaanbaatar (Mongolia), Warsaw (Poland), Ulyanovsk (Russia), Doha (Qatar), the program shared best cases of e-Government initiated by Seoul Metropolitan Government (SMG). 
During the program, participants had an opportunity to learn more about Seoul's innovative and best practices in e-Government as well as to network with IT-professionals, researchers and other city officials. Lectures on several e-Government related subjects were delivered: e-Government initiatives of Seoul, a smart city and e-Government in Korea, the use of IT in Seoul's Traffic Management, e-Government administrative reforms, and Big Data Innovation. Also, cultural tours and technical visits to Seoul's e-Government facilities, such as the Seoul Transport Operation & Information Service (TOPIS), and other related site visits were included in the program.