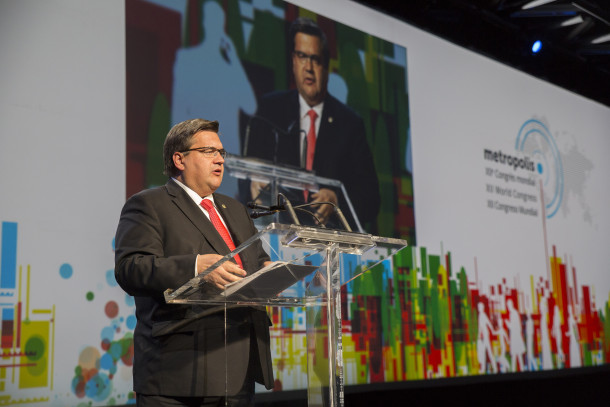 Lous-Charles Dumais
Metropolis commits to take up local and global issues
As the outcome of the 12th Metropolis World Congress and the 37th General Assembly of the "Association Internationale des Maires Francophones" (AIMF), mayors of the cities present have signed a commitment to stand together and take up local and global challenges, including by implementing the Paris climate agreement.
By encouraging this statement, Metropolis shows its willingness to get involved in the global leadership that aims to address the most pressing contemporary challenges.
Thus, as stated by Denis Coderre, President of Metropolis and Mayor of Montreal, "We, mayors and representatives of cities from around the globe, are more determined than ever to show strong leadership and contribute to the resolution of global issues that affect both the urban population and all of the world's population. The Montreal Declaration confirms the commitment of cities to implement the Paris climate agreement, as well as the declaration from the Climate Summit for Local Leaders and this, regardless of the international political context"
You can find the Montreal declaration in full below