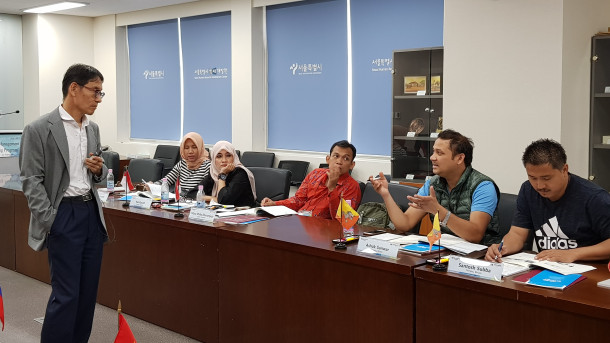 SHRDC
Lessons on urban regeneration and climate change
Between September 17 and 24, the Seoul Human Resource Development Center (SHRDC) successfully held an urban management training program focused on urban regeneration and climate change. The program counted on the attendance of representatives from five of our members (Bangkok, Jakarta, Rio de Janeiro, Shiraz and Taipei), and covered subjects such as balanced regional development plans for urban regeneration policies, urban competitiveness, and environmental policies on renewable energy and energy conservation.
With a total of 14 participants, the program not only shared urban regeneration and climate change policies initiated by the city of Seoul, but also offered opportunities for each participant city to share their concerns and proposals to solve the challenges they are faced with. Climate change and waste management were some of the topics that generated fruitful debates among the group.
Along with theoretical lectures regarding urban regeneration and environmental policies, all participants visited corresponding sites such as Seoullo 7017, Cheonggyecheon Museum, Culture Park, Energy Dream Center, Resource Recovery Facility etc. Participants thought highly of Seoullo 7017 and Culture park, formerly abandoned spaces which were transformed into people-oriented places and opened to the citizens this year.
In addition to the representation of our members, the program was attended by participants from Thimphu (Bhutan), Prague (Czech Repulic), Hue (Vietnam), and General Santos City & BayBay (Philippines).