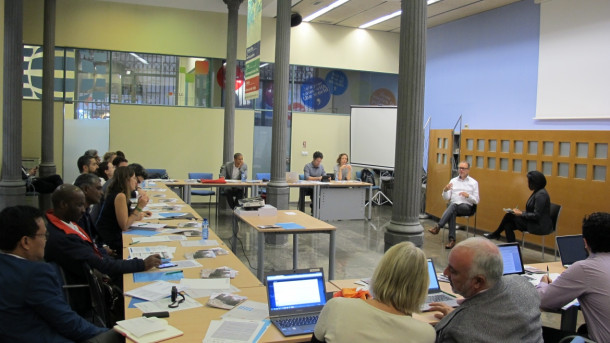 The learning agenda 2016 for local governments is being defined in Barcelona
Metropolis, as metropolitan section of UCLG and as active member in City to City learning among its community, participated in a meeting on learning strategies and synergies organized by UCLG at Metropolis/UCLG´s permanent secretariats in Barcelona. The association has been represented by Secretary General, Felip Roca, the Coordinator of the Metropolis International Training Institute (MITI), Agnès Bickart and the Advisor to Secretary General, Sunil Dubey.
One of the objectives were to stablish the criteria to identify and implement learning activities to the benefit of our respective and common member cities and build the UCLG Learning Agenda for 2016.
Many other active members, sections and partners in City to City learning  participated in the meeting:
• Metropolis
• SALGA
• FNP
• Al LAS, México
• MILE, Durban
• Diputación Barcelona
• ASPAC
• Committee on Culture
 Committee on Social Inclusion
• CIB group: VNG, FMC
• UCLG World Secretariat
For more information, kindly contact:
Lina Gast: l.gast@uclg.org
Sara Hoeflich: s.hoeflich@uclg.org