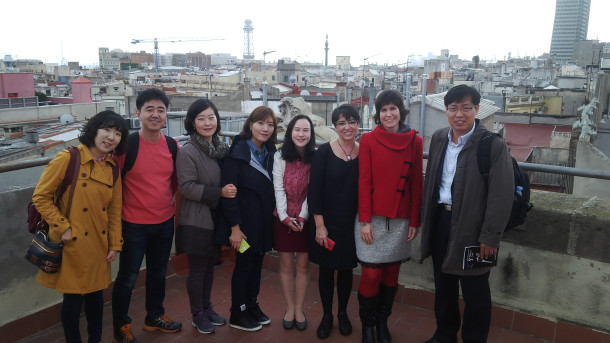 The Global Learning Team from Seoul Visits the Secretariat General
A delegation from MITI in Seoul, led by Mr. Young-gyu Kang, Head of the Global Learning Team, visited the METROPOLIS Secretariat General on 24 November. The purpose of the meeting was to find synergies between MITI's training proposals for 2015 and the activities to be developed both by the new METROPOLIS Initiatives and the METROPOLIS Women International Network.
MITI will organize a workshop at the ICLEI Congress next year, to be held in Seoul from 8 to 12 April. The Secretariat General will work with MITI to coordinate this presence with experts from the initiatives related to the issue of "Sustainable Solutions for an Urban Future". At the same time, the METROPOLIS Women International Network has offered to work closely with a gender perspective on the different programs and seminars of urban management and social wellbeing policies which MITI anticipates running in 2015.
The meeting was reminded that Seoul is not just the site of the MITI central office but is also a very active antenna in the Women's Network. There was a commitment to foster collaboration between the two sections and to work more closely in 2015.