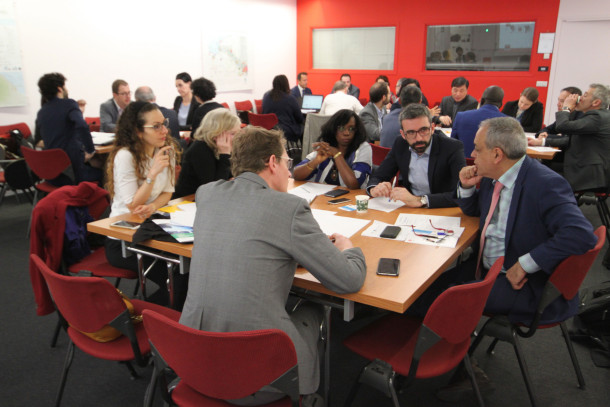 IAU
Environment, mobility, economic development and urban planning at the heart of sustainable airport areas
The third and last workshop of our initiative on Sustainable Airport Areas was held on the morning of the past April 4 at IAU (Institute of Urban Planning and Development of the Paris Region). It was organized jointly with the Airport Regions Conference (ARC) held in Paris from April 4 to 6.
The workshop brought together more than 35 participants, among representatives from the airports of Paris-CDG and Paris-Orly, from Metropolis members – Barcelona, Berlin, Brussels, Daegu, Dakar and Île-de-France –, and from other European metropolises (Budapest, Dublin, Goteborg, Oslo, Vantaa and Warsaw), as well as international experts and consultants from private companies (Arcandia, Envisa, Total).
The main objective of the third workshop was to carry on with the collective work on the principal challenges, issues and good practices developed by international airport areas that have already been identified during the first two workshops (Paris 2015 and Atlanta 2016). The participants split up in thematic work groups, each tackling one of the following key challenges: environment, mobility and accessibility, economic development and urban planning.
A business tour was organized jointly with the ARC in the afternoon. The participants visited the School for Aeronautics professions in Toussus-le-Noble (near Paris-Orly airport) and had the opportunity to discuss with the students and the trainees of the center.
Next step: the XII Metropolis World Congress in Montréal on 19-22 June 2017, where the final report of the Sustainable Airport Areas initiative will be presented.

Click on the image to see all the album