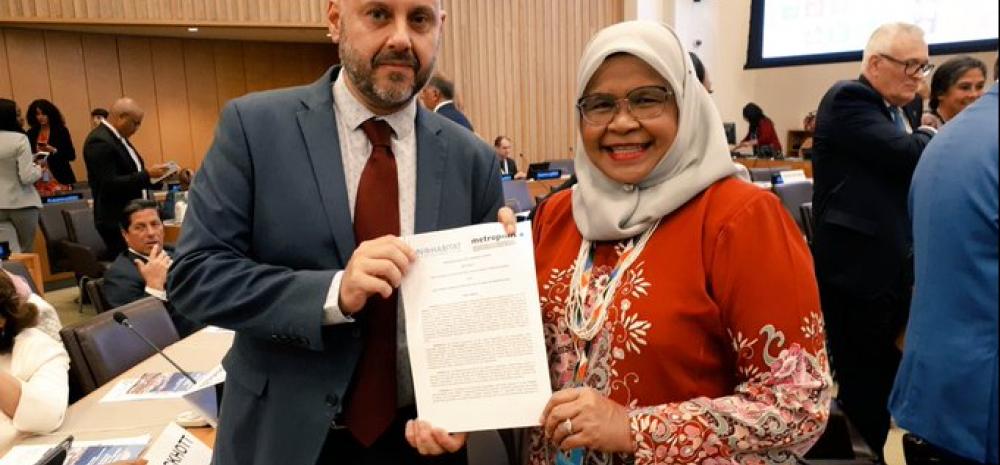 New Memorandum of Understanding with UN-Habitat to work together in areas of common interest to improve the quality of life of metropolitan dwellers
Metropolis is delighted to announce the renewal of the Memorandum of Understanding with UN Habitat. Its purpose is to provide a cooperation framework within which both organizations shall collaborate in areas of common interest related to the global agendas in order to promote sustainable urban development. Metropolis Observatory, Metropolis Training, Pilot Projects, use platform, and gender mainstreaming are some of our programs in which UN-Habitat is committed to contribute. On the other hand, Metropolis agrees to support the promotion and application of UN-Habitat global frameworks and metropolitan development initiatives, such as MetroHUB.
The MoU was signed during the SDG Summit which took place on 24-25 September 2019, where the Executive Director of UN-Habitat, Maimunah Mohd Sharif, and our Secretary General met and shared their interest in working together.
"Collaborating with UN-Habitat is crucial for the accomplishment of Metropolis' mission. The renewal of this agreement, valid for a period of five years, serves to establish a new framework for collaboration between both organizations according to the current services we offer and we congratulate for that!", states Octavi de la Varga.