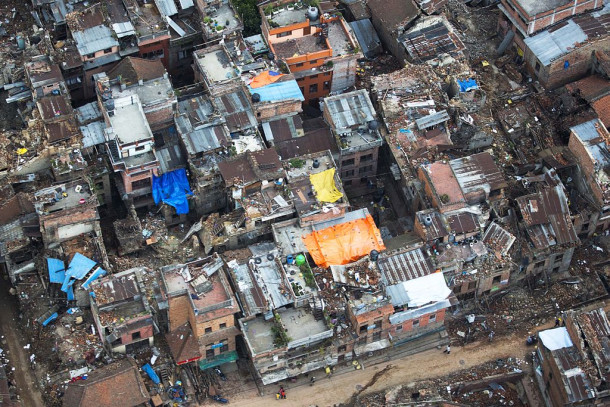 Por U.S. Marine Corps photo by Staff Sgt. Jeffrey D. Anderson [Public domain], undefined
Call to the Metropolis members: three months later, Nepal needs help more than ever
For more than three months now, the most devastating of the last 80 years earthquake rocked Nepal. A few weeks later there was a second earthquake that shifted further damaged structures and increased the damage and death toll. According to figures provided by the government of Nepal, the earthquakes have affected more than 8 million people, with a death toll now exceeding 8,700 people and more than half a million homes destroyed.
Now that the first phase of emergency is completed, the recovery phase begins. At this stage it is vital to focus aid in ensuring that families regain their livelihoods and the access to decent housing.
METROPOLIS contacted his member city in Nepal, Kathmandu, to let us know their needs in terms of experts and equipment for the reconstruction of the capital of Nepal. Click here to read the letter from the Chief Executive Officer of the city of Kathmandu, Rudra Singh Tamang.
METROPOLIS, with the support of the working group on disaster management to local governments led by UCLG and Cités Unies France, appeals to our members to provide assistance to the city of Kathmandu.
If you think you can provide them assistance or if you would like further information, please write to: metropolis@metropolis.org, indicating in the subject of your email: Kathmandu Campaign