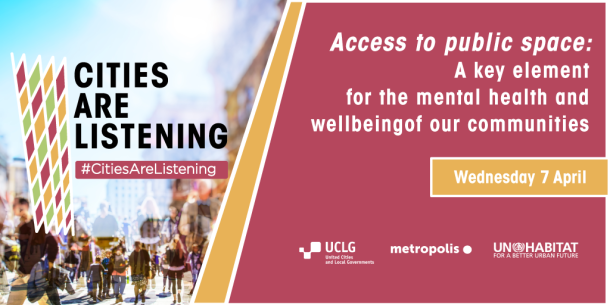 Webinar: Public Space and Mental Health and Wellbeing
This episode of CitiesAreListening delves into the interrelations between public space and mental health. Public space contributes to children's development, community life, reduces stress levels and improves mental health and wellbeing. What's more, the COVID-19 pandemic has demonstrated how unevenly public space is distributed throughout cities and the negative consequences of poor access to green, inclusive and safe public spaces on dwellers' mental health.  Yet public space is a key component of city infrastructure that is often overlooked.
The interactive exchange will invite city leaders and experts to discuss the value of public space for mental and physical health in cities, together with UCLG, UN-Habitat, Metropolis and Placemaking X.
Run of show
Welcome: UCLG

Setting the Scene

Key Note Addresses by Mental Health and Public Space Specialists

Moderated Panel discussion on practices from local and regional governments

Introduction to "Integrating Health in Urban and Territorial Planning Sourcebook"

Moderated Panel Discussion with representatives from Partners and Experts

Closing Remarks and Summary: UN-Habitat
Registration
Please register here to attend the webinar.
For further information, please don't hesitate to contact Ms Laura Valdés from the Metropolis Secretariat General staff: lvaldes@metropolis.org