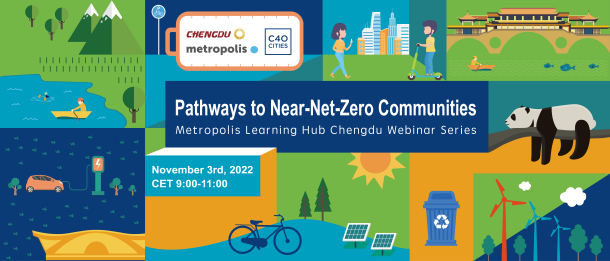 Webinar "Creating Net Zero Community"
Working towards the 2030 peaking goal and long-term carbon neutrality goal of China's national goal, local governments have a critical role to play in helping to implement policies on the ground and establishing an enabling environment for stakeholders to increase contributions to net-zero.
To achieve peaking and carbon neutrality goals, and explore a near-net-zero solution that adapts to local conditions, the city of Chengdu released the Work Plan for Pilot Near-Net-Zero Communities in March 2022, targeting to create 10 near-net-zero communities in 2022 and 30 more by the end of 2025.
In July 2022, Chengdu joins hands with C40's Green and Thriving Neighbourhoods Network. The two parties, together with the Science and Technology and Industrialisation Development Centre of China's Ministry of Housing and Urban-Rural Development, will work jointly on a pilot net zero community project in Chengdu.
Embarking on the journey to implement sustainable development practices and a transition to net zero, during the 2-hour webinar on "pathways to net zero" organised by Metropolis Learning Hub Chengdu with the support of C40 and Chengdu's Municipal Commission for Urban and Rural Community Development and Management, participants will hear responses from government and civil society representatives, climate action professionals, community project managers on:
How to design good public policies to help foster favourable climate for green transition;
Guidelines, approaches, and index that help grass-root communities navigate their way to net zero transition;
How to adapt different methodologies to various types of communities and neighbourhoods
Programme of the session to be uploaded soon. 
Registration to this webinar available HERE