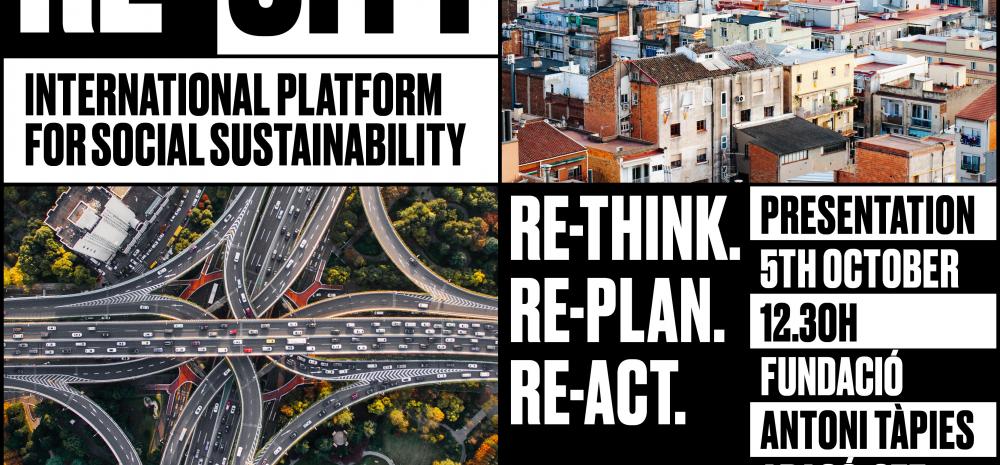 Fundació Catalunya Europa
RE-CITY is an international platform for Social Sustainability, to rethink, rethink and react to the challenges affecting metropolises such as social inequalities, climate change, the phenomenon of interculturality or the future of new technologies.
The RE-CITY project began last year with the cycle "Combat Inequalities" and will continue from this October with the cycle "Let's do something about climate change" which will have the participation of different international experts. 
The project has grown giving rise to the creation of an Observatory for Social Sustainability, a Network of Academics, a Group of Entrepreneurs for Equity and the development of a Training Plan for people with political profile and people with technical profile of local governments.
On Friday 5 October at 12h30pm we will present the RE-CITY project to the Fundació Antoni Tàpies.
The RE-CITY project has the support of the City Council of Barcelona, the Metropolitan Area of Barcelona (AMB), the Government of Catalonia, and the collaboration of Metropolis (World Association of Major Metropolises), the Obra Social Foundation "la Caixa" and the Club Roma, in the challenge of inequalities, and BBVA in the challenge of climate change.
 The presentation will be given by:
Ms. Laura Pérez, Councillor for International Relations, Barcelona City Council.
Ms. Gemma Sendra, President of the Fundació Catalunya Europa.
Dr. Xavier Ramos, Professor of Economics at the UAB and Director of the Network of Re-City Academics.
Im. Mr. Alfred Bosch, vice-president of the International and Cooperation Area of the AMB and co-president of Metropolis.
Ima. Ms. Lluïsa Moret, Mayor of Sant Boi de Llobregat.
Ima. Ms. Núria Parlon, Mayor of Santa Coloma de Gramenet.
Mr. Jordi Alberich, businessman and promoter of the 'Group of Businessmen for Equity'.
H. Mr. Ernest Maragall, Minister for Foreign Action, Institutional Relations and Transparency of the Government of Catalonia.
If you want to attend you can confirm attendance here: info@catalunyaeuropa.net