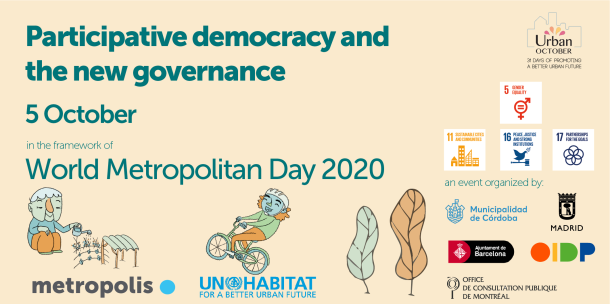 Participative democracy in the framework of the new governance for human, sustainable and inclusive development
In the framework of the World Metropolitan Day 2020, the city of Córdoba (Argentina), with the cities of Barcelona, Madrid and Montréal as partners, organize the launch of the pilot project "Participatory Democracy".
The central axis of this project is to promote the exchange of successful experiences for participatory democracy, with a special focus on Participatory budgeting, and generate knowledge that allows its strengthening in the metropolises.
This event will be open to everyone through the Zoom platform, and will be held in Spanish with interpretation in French and English.
The program of the event taking place on October 5th is the following (ARG time):
10:00 to 10:15 Welcome speeches by the authorities of the Municipality of Cordoba, Metropolis and Partners. Formal launch of the Participatory Democracy Pilot Project.
10:15 to 10:45 Keynote speech on Participatory Democracy (30') by the Secretary General of Metropolis, Octavi de la Varga.  Title: "Citizenship and Participation in Public Affairs facing the COVID-19: challenges for strengthening participatory democracy mechanisms".
10:45 to 11:45 Dialogue Table on Citizen Participation: presentation of the participation policies of each city council (15' per city). Moderator: Adrià Duarte, Coordinator of the International Observatory for Participatory Democracy (IOPD).
11:45 Questions and answers from the audience.
12:15 Closing of the event
To subscribe to this event, please click here.