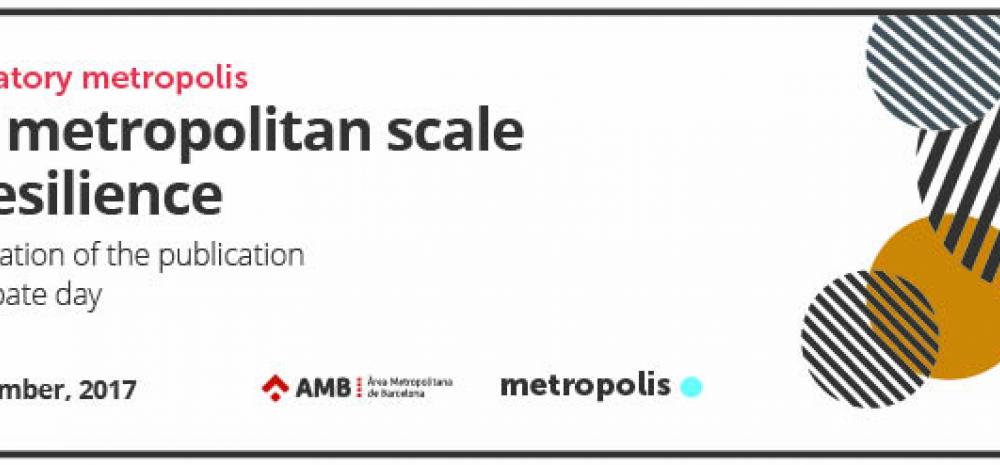 Metropolis Secretariat General
How can a resilient metropolis be built? This session, jointly organized by Metropolis and Metropolitan Area of Barcelona, presents an analysis of this perspective, presented by the organisation 100 Resilient Cities, who Metropolis commissioned to draft Issue Paper 3 for the Metropolis Observatory.  It will involve the attendance of metropolises from nearly every continent, who will present their plans for resilience. These plans no longer focus solely on preparing for natural disasters, but also feature issues such as social inclusion, security, housing and employment. These snapshots of the present allow us to imagine possible future scenarios for metropolitan citizens.
The event will be held in English and Spanish. Translation services will be available in both languages.
Venue:
Pati Manning
Montealegre, 7
Barcelona, Spain

PROGRAM
---
09h-9.30h Registrations and welcom coffee
 
9.30h-9.45h Opening of the conference
Mr. Alfred Bosch, Vice-President of the Metropolitan Area of Barcelona (AMB)
9.45h-10.30h Presentation of Issue Paper 3
- Presentation in charge of 100 Resilient Cities -100RC- (35-40')
- Questions (5-10')
10.30h-12h Exposition of the practical cases. (1h 15' + 15' questions)
- Ms. Ares Gabàs, Responsible for Urban Resilience of Barcelona City Council
- Ms. Martina Ferrarino,  Deputy Director of Resilience of the Government of the City of Buenos Aires
- Ms. Manisha Maganlal, 2nd Deputy Chief Resilience Officer of Durban
- Ms. Daniela Torres, Resilience Analyst of Mexico City, Ministry of the Environment
12h-12.30h Coffee-break (30')
12.30h-13.45h Debate/ round table:  (1h + 15' questions)
- Prof. Samer Bagaeen, Associate Director, City and Practice Management / Europe and  Middle East
- Dr. Lorenzo Chelleri,  Chair - Urban Resilience Research Net and Senior Researcher Universitat Internacional de Catalunya
- Ms. Amaya Celaya, Urban Resilience Specialist - Technical Coordinator City Resilience Profiling Tool, UN-HABITAT
- Ms. Evgenia Mitroliou, Program Officer, Resilient Cities, ICLEI-Local Governments for Sustainability
13.45h-14h Closure and conclusion of the conference
- Mr. Octavi de la Varga, Secretary General of Metropolis

The debate will be moderated by Ms. Marta Tarragona Gorgorió, member of the Technical Secretariat of the asociación África-América-Europa de Regiones y Ciudades (AERYC)

For further information, please, contact mr. Eugeni Villalbi, project officer for Observatory Metropolis: evillalbi@metropolis.org
---
The event is organised with the collaboration of: