Metropolis webinar: Intersectional responses for the LGBTI+ community facing COVID-19
Documents: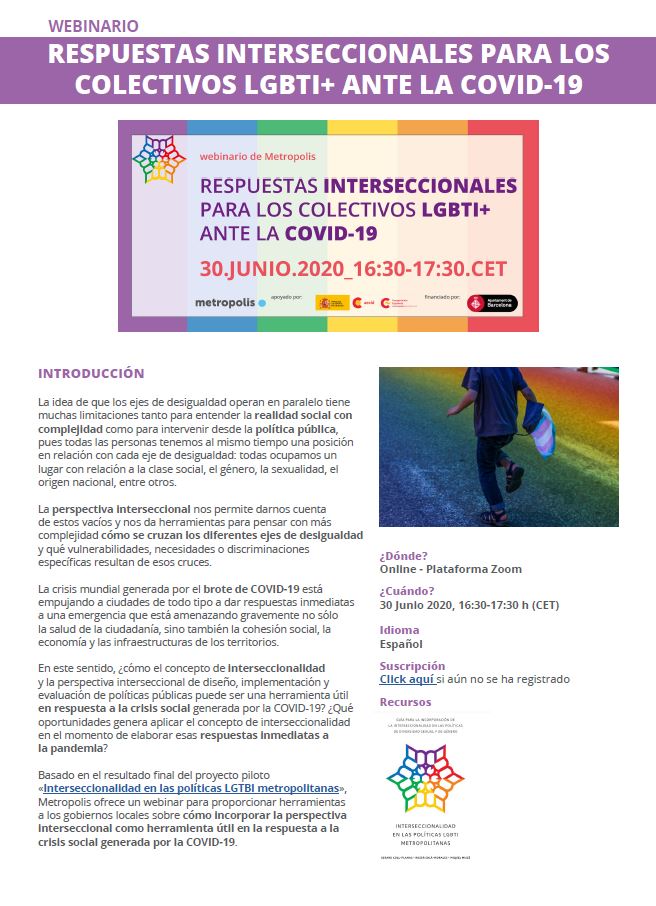 Ficha webinario - ES
Introduction
The idea that the axes of inequality operate in parallel has many limitations, both for understanding social reality with complexity and for intervening from public policy, since all of us have at the same time a position in relation to each axis of inequality: we all occupy a place in relation to social class, gender, sexuality, national origin, among others.
The intersectional perspective allows us to realize these gaps and gives us tools to think with more complexity about how the different axes of inequality are crossed and what specific vulnerabilities, needs or discriminations result from those crossings.
The global crisis generated by the COVID-19 outbreak is pushing cities of all kinds to provide immediate responses to an emergency that is seriously threatening not only the health of citizens but also social cohesion, the economy and the territories' infrastructures.
In this sense, how can the concept of intersectionality and the intersectional perspective of public policy design, implementation and evaluation be a useful tool in response to the social crisis generated by COVID-19? To what extent is this view present in sexual and gender diversity policies in the city? What opportunities does the concept of intersectionality generate when developing these immediate responses to the pandemic?
Based on the final result of Metropolis pilot project "Intersectionality in metropolitan LGTBI policies", Metropolis offers a webinar to provide guidelines to local governments on how to incorporate the intersectional perspective as a useful tool in the response to the social crisis generated by the COVID-19
Content
The concept of intersectionality 
How to apply the intersectional perspective in local social policies
Concrete experiences of incorporating the intersectional perspective in the response to the social crisis generated by the COVID-19 
Opportunities and limitations for incorporating this perspective
Recommendations to apply intersectionality in metropolitan policies focused on responses to the COVID-19 crisis
Program
Welcome by Metropolis - objective and methodology (3 min) 
Introduction by Gerard Coll Planas, Director of the Centre d'Estudis Interdisciplinaris de Gènere, Universitat de Vic and Universitat Central de Catalunya: How is the concept of intersectionality useful in response to the social crisis generated by Covid-19? (7 min) 
Presentation by Meritxell Saez, Department of Feminisms and LGTBI, Barcelona City Council (5 min)
Presentation by Martín Clapié, Director of the Sexual Diversity Office, Municipality of Rosario (5 min) 
Presentation by Pamela Malewicz, Undersecretary of Human Rights and Cultural Pluralism, Government of the Autonomous City of Buenos Aires (5 min) 
Presentation by Geraldina González de la Vega, President of COPRED, Mexico City (5 min) 
Presentation by David Alonzo, Director of the Sexual Diversity Office, Bogotá City Hall (5 min) 
Presentation by Luz Ángela Álvarez, Secretariat of Social Inclusion, Family and Human Rights, Medellín City Hall (5 min) 
Presentation by Andrés Scagliola, Executive Coordinator of the Secretariat for Diversity, Montevideo City Hall (5 min)
Round of questions (10 min) 
Conclusions by Gerard Coll Planas (3 min) 
Closing by Metropolis (2 min)
Total: 60min
Who should attend the webinar?
people working in local government (in both technical and political positions)
students and researchers 
activists or people interested in knowing how to counteract inequalities

Specifications
The webinar "Intersectionality in the response of cities to COVID-19" is open to anyone and access is completely free. It will be held on 30 JUNE 2020, from 16:30 to 17:30 (CEST), and will be conducted in Spanish.
To join the webinar, subscribe here. In the subscription process, you will have the opportunity to indicate some questions that will be proposed to the speakers.
Financed by: 

supported by: