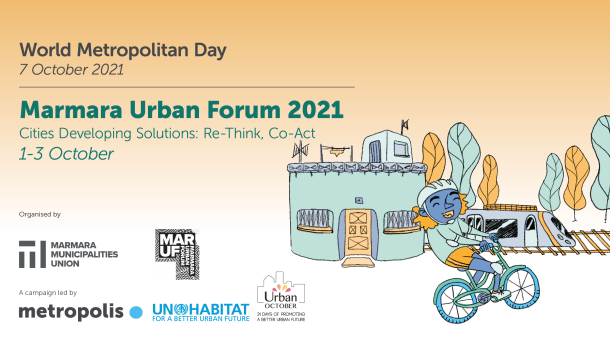 Marmara Urban Forum 2021 - Cities Developing Solutions: Re-Think, Co-Act
The second Marmara Urban Forum (MARUF), organised by Marmara Municipalities Union, will be held online on 1-3 October 2021 on the theme of "Cities Developing Solutions: Re-Think, Co-Act" by recognising the necessity of reconsidering established urban policies and planning processes in the light of the COVID-19 pandemic.
MARUF aims to find alternative ways for discussing urban issues to contribute to the implementation of the New Urban Agenda. In collaboration with stakeholders at local, regional, national and international levels, MARUF aims at:
Analysing economic, political, social and ecological impacts of urbanization on humans' lives and cities
Raising awareness on safe, inclusive, resilient and sustainable urbanization approaches
Contributing to the transformation of cities to make them more liveable and equitable
Seeking solutions to the challenges that cities face and multiplying good practices at the global scale
Discussing how to strengthen the role of cities and local governments in case of emergency situations and global challenges
Developing information flow and networks among cities and city-regions
Octavi de la Varga, Metropolis Secretary General, is one of the event's featured speakers.
Participation is free of charge, you can register here
For further information, please visit marmaraurbanforum.org