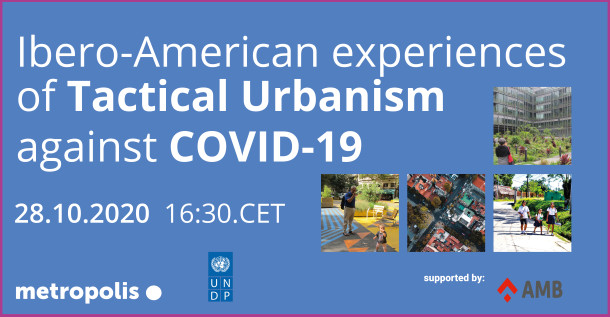 Land use, -planning and -management
Ibero-American experiences of tactical urban planning against the COVID-19
Documents: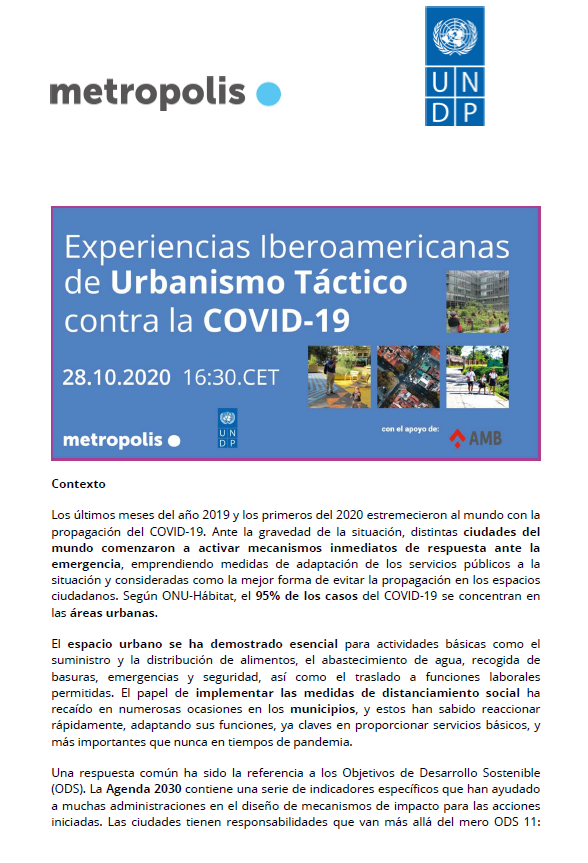 Program
The last months of 2019 and the first months of 2020 rocked the world with the spread of COVID-19. In view of the seriousness of the situation, various cities around the world began to activate immediate emergency response mechanisms, undertaking measures to adapt public services to the situation and considered the best way to prevent the spread of COVID-19 in public spaces. According to UN-Habitat, 95% of the cases of COVID-19 are concentrated in urban areas.
Urban space has been proved essential for basic activities such as food supply and distribution, water supply, waste collection, emergencies and security, as well as for moving to permitted work functions. The role of implementing social distancing measures has often fallen on municipalities, and they have been able to react quickly, adapting their already key functions in providing basic and more important services than ever in times of pandemic. 

A common response has been the reference to the Sustainable Development Goals (SDGs). Agenda 2030 contains a series of specific indicators that have helped many administrations to design impact mechanisms for the actions initiated. Cities have responsibilities that go beyond the mere ODS 11: poverty, hunger, health, education, gender, water, economic growth, industry and the urban space provides the ideal field where social, economic and infrastructure and public service related indicators meet. 
The event, organized by the United Nations Development Program and Metropolis, will feature the participation of municipal experts who have been in charge of preparing and implementing tactical urbanism projects, in order to be able to compare practical experiences and confront difficulties and successes in both the design and implementation phases, with special emphasis on the reaction of citizens and the social changes generated by urban interventions to stop the spread of the virus.

Programme
Welcome by Octavi de la Varga, Secretary General of Metropolis
Carlos Alejandro Soberanis Toledo, Síndico primero; Emilio Vargas Díaz

, Jefe de urbanística y

José Miguel Benítez Pacheco, Director de comunicación social, Guatemala City (15 min)
Silvia Casorran, Head of the Bicycle Office, Metropolitan Area of Barcelona (15 min)
Nicolás Rivillas, Assistant Manager of Design and Innovation of the Urban Development Company of Medellin (15 min)
Constanza Delón Córdoba, Secretariat for Mobility, Mexico City (15 min)
Q&A
Comments and recommendations by Diana Lopez Caramazana, Partnership Specialist, Cities and Urbanization, UNDP
Closing by Octavi de la Varga
The webinar will take place on October 28th from 16.30h to 18.00h CET and will be conducted in Spanish with interpreting service in English.
To participate, please register HERE