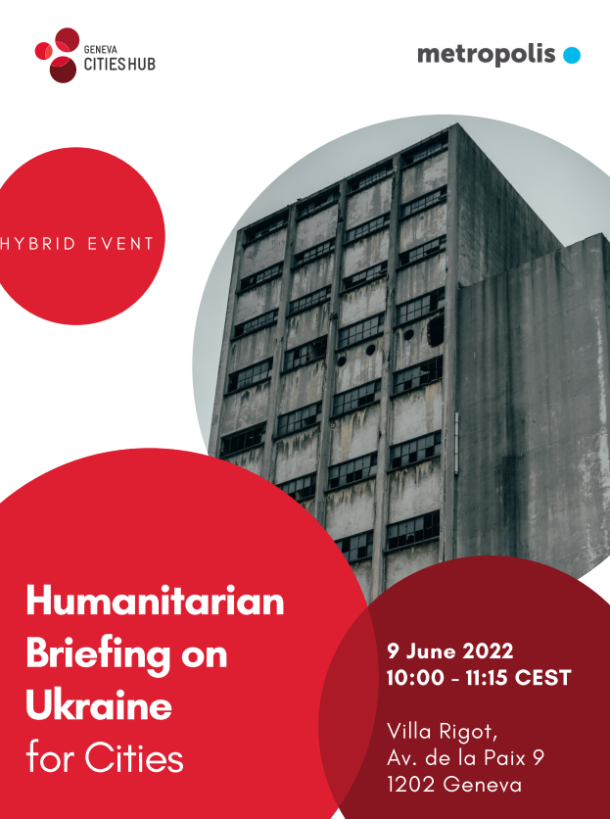 Humanitarian Briefing on Ukraine for Cities
We are pleased to invite you to participate at the Humanitarian Briefing on Ukraine for Cities, organised by the Geneva Cities Hub in partnership with Metropolis. The objective of this informal humanitarian briefing is to help any city, local or regional government interested to provide humanitarian assistance to do so in the most effective manner and with the most relevant humanitarian stakeholders.
Immediately after the conflict started on 24th February 2022, humanitarian aid has been provided to Ukraine by various actors, including international organizations, States, local authorities, NGOs and private actors. The first phase of emergency is now behind and around 6 million people have left the country, looking for refuge elsewhere. However, humanitarian needs continue to be significant, in particular in cities, which have been particularly impacted.
Speakers
Ms. Mykhailyna Skoryk-Shkarivska, Deputy Mayor, City of Bucha
Ms. Olga Demianenko, Director, Dpt. for Cooperation with International Agencies & Financial Institutions, City of Kharkiv
Mr. Anvar Munavvarov, Humanitarian Affairs Officer, OCHA
Mr. Jeremy Wellard, Head of Humanitarian Coordination, ICVA
Representative from IFRC
Topics that will be addressed
What is the humanitarian situation on the ground?
How can humanitarian assistance effectively meet the needs of people who have remained in Ukraine?
What is needed now and in the longer term?
How do relevant international organizations help coordinate the humanitarian efforts of the various actors?
How and with which partners can humanitarian aid be channelled efficiently in the country?