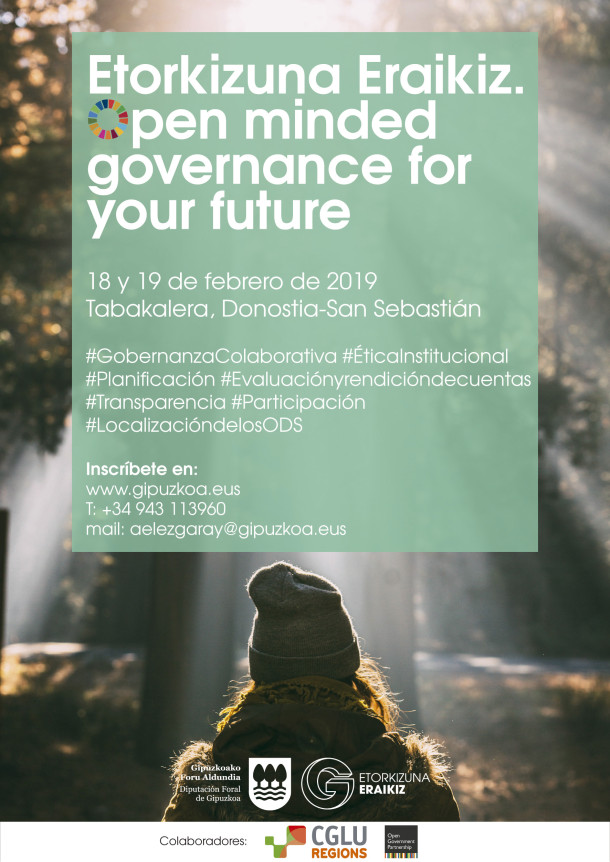 Etorkizuna Eraikiz Congress. Open minded governance for your future
The Provincial Council of Gipuzkoa is organising this congress with the aim of generating shared knowledge on issues of collaborative governance, institutional ethics, planning, evaluation and accountability, transparency, participation and localization of the Sustainable Development Goals as concepts and future challenges faced by both local and regional administrations and society, which must be tackled from now to continue building the best future for citizens.   
The first day of the Congress will serve to reflect together with leading international experts in different areas of good governance on the new models of governance that are being promoted by different Basque and international public administrations and to establish a dialogue in order to get to know and learn from the different experiences.
The second day will include an open meeting of the UCLG Community of Practice on Transparency and Open Government, to share the outcomes of the work carried out in the 2018 and encouragee new members to join this group of practitioners dedicated to supporting peer learning, awareness raising and capacity building on open governance and public integrity at the local level, and promoting the role of local and regional governments in developing and promoting practices of transparency, participation and accountability for the achievement of sustainable territories.   
General information about the event may be found at gipuzkoa.eus/en/web/open-minded-governance