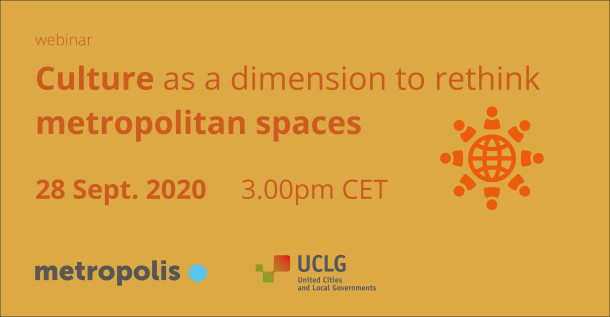 Culture as a Dimension to Rethink Metropolitan Spaces
On the occasion of the conference in Rome on the Charter of Culture on 1, 2 and 3 October, Metropolis organises a dialogue on culture and metropolitan spaces on Monday 28 September at 3.00pm CET.
Metropolis wants to provide to the Charter a perspective on the challenges and opportunities for ensuring quality of life in metropolitan areas though a debate jointly with four Metropolis members and signatories of the Charter: Buenos Aires, Barcelona, Montreal and Xi'an
This on-line debate will provide participants with:

-    Inputs and key drivers regarding culture and its impact in people's life in a metropolitan context.
-    A perspective on the challenges and opportunities to ensure the quality of life in metropolitan spaces. 
-    Contribute to the conference that will take place between the 1st and 3rd October 2020.

Webinar: 28th September 2020 – 15 :00 CET
All people interested in participating are invited to register here
Agenda
---
- Opening (5'): Octavi de la Varga, Metropolis Secretary General
- Setting the scene (10'):  Luca Bergamo, Deputy Mayor, Rome
- Debate (55'):
Representative of Buenos Aires
Ms. Wang Chenjia, Dean, Intercultural Research Institute at Northwestern University, Xi'an
Representative of Montreal
Representative of Barcelona City
Moderated by: Jordi Pascual, Coordinator Culture UCLG 
- Open discussion with the audience (15')
- Wrap up (10'): Speaker TBC
 
English and Spanish translation will be available during all the session. 
You can read the concept note by clicking here.
For any questions or doubts, kindly send an email to: learning@metropolis.org