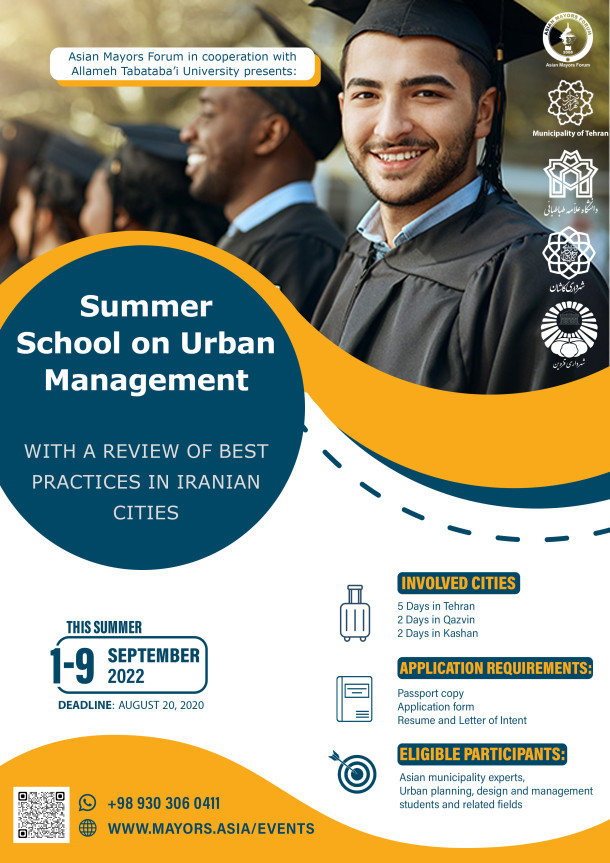 Asian Mayors Forum Summer School
Date to be confirmed
Asian Mayors Forum Summer School 2022
in cooperation with Allameh Tabatabi University 
September 1-9, Iran
What to Expect:
There is a consensus among urban experts, that urban challenges cannot be solved without having all cities cooperate around a table. As such, Asian Mayors Forum and Allameh Tabataba'i University are offering a summer training program to promote knowledge and experience sharing among experts, students, and the youth. Moreover, the participants have the chance to get acquainted with Iranian cities, urban management system, and culture.
Who Should Participate:
Asian Mayors Forum Summer School targets:
- Municipality experts,
- Urban planning, design and management students and related fields.
Course aim:
The program is designed to fully address all aspects of urban management through workshops, lectures, and field trips with an emphasis on "Tehran's best practices" as the theme for the first year. It will be held for about 2 weeks 1-9 September, in Tehran, the Capital of Iran and the cities of Kashan and Ghazvin.
In this program, we will explore City Diplomacy, Urban Tourism, Waste Management, Environment & Climate Change, Smart Cities & Knowledge-based Management, Sustainable and Resilient Urban Experiences, Urban Mobility, Experiences in Urban Rehabilitation, Urban Governance, Place-Making through Urban Design, Islamic Urban Development & Architecture.
Costs:
The tuition fee of $750 covers accommodation, domestic transportation, and meals. If you sign up for AMF 2022 summer school before August 10, you are eligible for an early bird fee of $700.
Note, that the participants are expected to cover international airfares from/to their home country to/from Tehran, airport transportation, visa fees, and insurance.
Application Documents:
-Passport copy,
-Application form, 
-Resume and Letter of Intent.
Application Deadline:
August 20, 2022.
Notes:
- The language of instruction is English.
- A certificate of participation will be awarded to the participants at the end of the course jointly with Allameh Tabataba'i University.  
- The most talented participants would be awarded to be honorary member of the Society of AMF Special Urban Working Group.
- Please send your questions and application documents to:
Tehran.amf@gmail.com.
We are looking forward to welcoming you!
TO REGISTER CLICK HERE