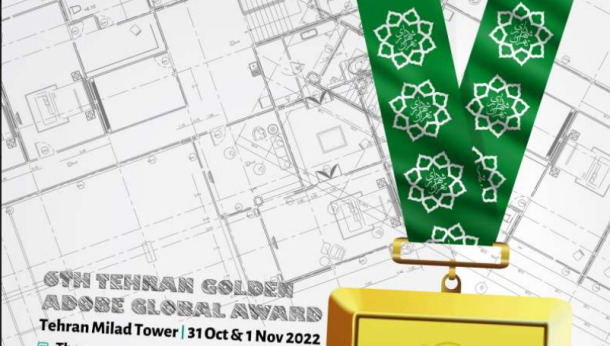 The 6th Tehran Golden Adobe Global Award
Tehran Golden  Adobe Global Award 2022
Call for entries
The 6th Tehran Golden Adobe Global Award will be held on October 31-November 1, 2022, in  the Iranian capital. This round of the award, organised Municipality of Tehran and in  cooperation with the United Nations Human Settlement Program (UNHABITAT), will focus on  "People-Oriented Development, Social Dynamism and Cultural Inclusion in City" under the  following themes:
1- Architecture, urbanisation and preserving cultural heritage
2- People-oriented development, social dynamism and urban liveability 3- Developing infrastructures, public transport and urban services
4- Participation of citizens and cultural inclusion in city
5- Knowledge-based development and smart city
6- Urban economy, investment and entrepreneurship 
7- Regional governance, planning and urban management
All cities, urban areas, regional governments and elites in field of urban services from all  across the world are eligible to take part at Tehran Golden Adobe Global Award 2022, if they  have a project fitting the following criteria:
• The project has to be an accomplished one
• The location of the project has to be within the cities or their boundaries • The project should have a commercial or experimental pattern in one of the  mentioned themes
• The project has to be implemented by municipalities and regional governments or  with their active partnership by private sector, public sector, or the state.  • It should not be more than five years since the completion or operation of the project
• Registration for the award should be approved by the municipality or the responsible  executive organisation in urban management sector of the city 
For registration please visit tehrangoldenadobe.com. Please note that the deadline for  application is October 7, 2022.