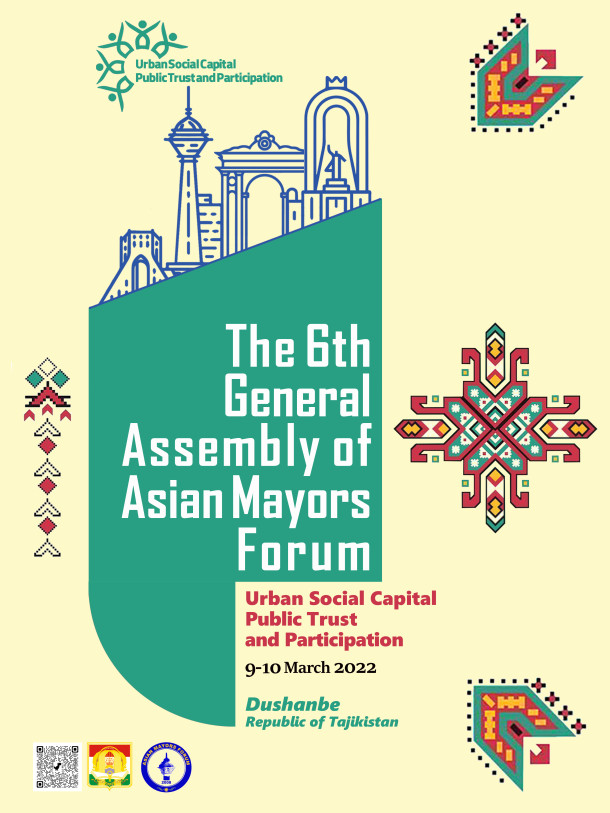 6th General Assembly Asian Mayors Forum
Tajikistan to host The 6th Asian Mayors Forum (GA-6)
The 6th General Assembly of the Asian Mayors Forum (AMF) is scheduled to be held on March 9-10, 2022, in the capital of the Republic of Tajikistan, Dushanbe.
Titled as "Urban Social Capital, Public Trust, and Participation", this round of AMF will focus on public trust and the importance of public participation on international decisions as well as the social capital.
The position of cities and countries, regarding the centrality in global social networks, is known as the most important principle in measuring "social capital".  Therefore, the concept of "social capital" is considered as one of the essential indicators in urban development due to its value and importance for citizens, communities, and organizations. The 6th General Assembly of the Asian Mayors Forum, regarding its principal theme, seeks to increase social and cultural capital between the member cities. On the other hand, the conference provides an opportunity for the Asian cities to introduce their capabilities and potentials for city to city cooperation, and this time, it is Dushanbe, which will seize the moment as an Asian metropolis.
The event, while providing a platform for presenting the performance reports and plans of the Asian Mayors Forum, will also introduce the new Secretary-General and the president of the organization, elected every three years. The fifth term has been chaired by Mr. Goshtasb Mozafari as the Secretary General, and Ms. Fatma Şahin as the president, from Iran and Turkey, respectively.
To register for the event, please visit the link below:

https://docs.google.com/forms/d/1OtADQYLeqBN7EhNFz6HyVaR-HnwW6iTCZ0T-evOsOxQ/edit