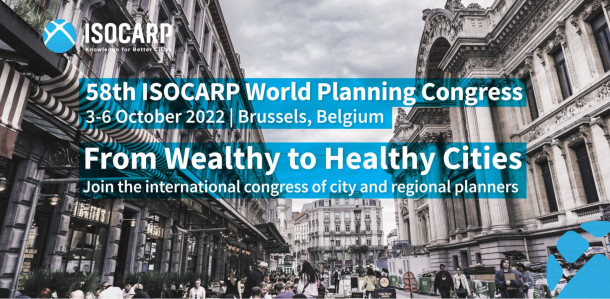 58th ISOCARP World Planning Congress
From Wealthy to Healthy Cities, Urbanism and planning for the well-being of citizens
The theme allows a global debate on the evolution of post-covid cities and a better consideration of health in planning. In all large metropolis, the health of the inhabitants is influenced by the concentration of activities, social inequalities, mobility patterns, air quality and climatic impacts. It is important to act on health determinants that can be tackled in an integrated way through planning, public and green spaces, housing, mobility or eco-social inclusion.
The congress will be organised from 3 to 6 October 2022 in Brussels, and will include technical tours, plenary sessions, workshops, walkshops and networking events.
The main events will take place in a remarkable venue in the city. Technical tours, walkshops and workshops can take place in the immediate surroundings or anywhere in the city depending on the projects and territories to be highlighted. Many events will be organised in cooperation with European and international institutions located in Brussels.