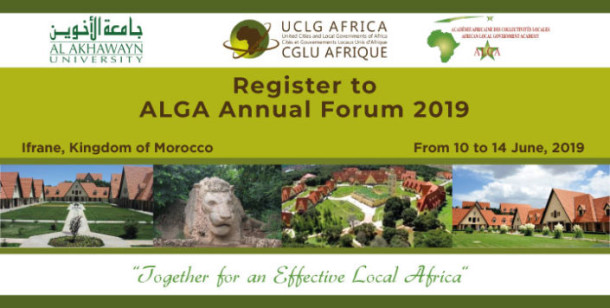 3rd Forum of Territorial Managers and Training Institutes targeting the local level in Africa
This forum, organized by UCLG Africa, through its African Local Governments Academy (ALGA) and its partners, will be held under the theme "Financing Learning, Training and Capacity Building for Local Elected Officials and Territorial Managers in Africa: for Innovative and Sustainable Mechanisms." It will be an opportunity to discuss and benchmark the issue of financing learning, training and capacity building that targets local governments in Africa, to present the successful models that exist from around the world and to present and propose innovative and sustainable mechanisms to anchor decentralization in Africa. The forum will also offer a space to empower participants on the African and Global Agendas.
Registrations are open until May 30, 2019 through https://bit.ly/2vPneiS
For further information, please visit the UCLG Africa website.