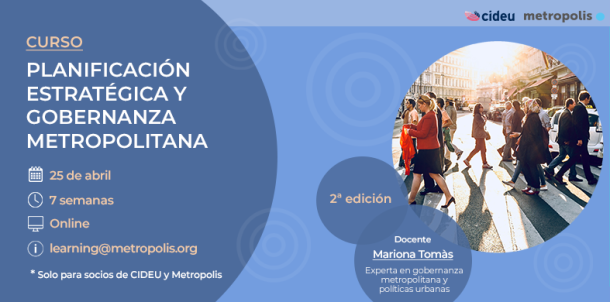 2nd Edition of the course "Strategic planning and metropolitan governance"
The expansion of metropolitan regions is an increasingly visible phenomenon in the 21st century. They introduce their own problems, challenges and opportunities that require specific responses. The institutionalisation of metropolitan areas is one of the most frequent responses, a growing phenomenon in the countries of the Ibero-American framework, based on a more or less intense coordination, depending on the model adopted, of strategies and policies that seek to resolve common needs for the benefit of all the parties involved. 
CIDEU and Metropolis are jointly organising a 7-week course during which existing models of metropolitan governance and planning will be presented. We will analyse their advantages and disadvantages, the main metropolitan challenges and how to face them.
This course, developed entirely in Spanish, is aimed at technical and/or managerial staff of local governments that are members of one of these organisations. Fluency in Spanish is a mandatory requirement.
For more information, you can visit our Learning Station.