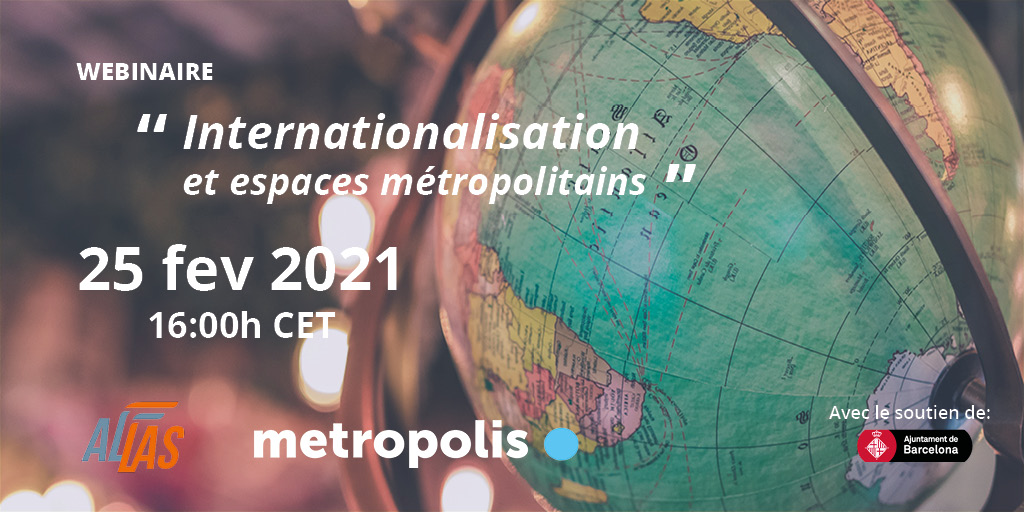 Internationalisation and metropolitan spaces
Online
On the base of the Metropolis Issue paper "The internationalisation and metropolitan spaces", Metropolis learning and the Observatory projects jointly with Proyecto ALLAS organise a webinar which highlights that nowadays the management of local policies and the exercise of their competences by local governments implies the need to generate links with international actors and their insertion in that sphere. Internationalization has gradually gained cross-cutting space within the institutional, political and territorial objectives of local administrations, moving towards becoming a strategic action and, eventually, public policy.
The webinar will be conducted in French.
Would you like to attend this meeting?
Contents
Internationalization and public policies
Cooperation and international strategies
Global impact of metropolitan measures
Communication: a key element for public policy legitimization
Analysis of internationalization strategies around the world
Recommendations for the internationalization of metropolitan spaces
Who should attend
Local Governments officials (international relations offices)
Practitioners
Decision makers
International relations students and researches
Speakers
Mariana Flores, Executive Director of Institutional Representation, Government of Mexico City
Santiago Betancur, AL-LAs 
Rahmatouca Sow Dièye, deputy Chief of Staff, Ville de Dakar
Fatimetou Boukhreiss, head of Cooperation, Région de Nouakchott