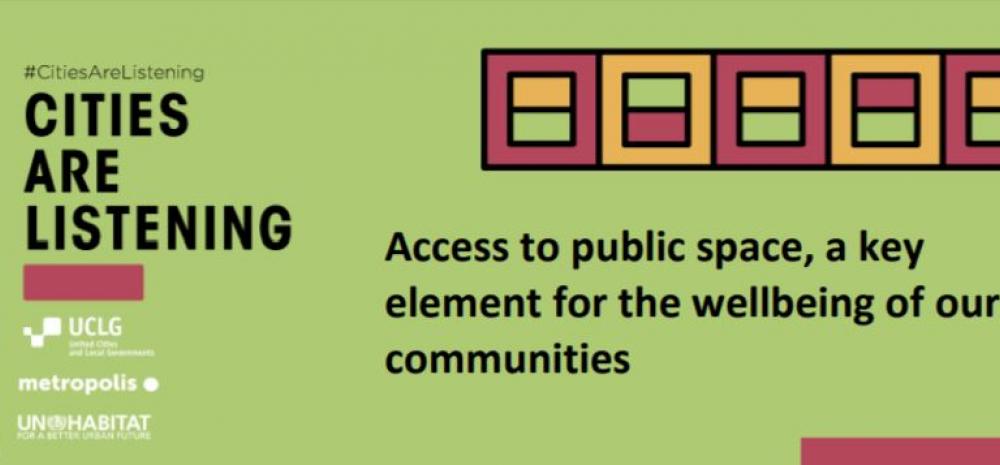 The Urban Strategic Planning Committee of UCLG, together with the UN Habitat Planning Section, Metropolis, Placemaking X and various local governments will host a Live Learning Experience in the framework of the UCLG #CitiesAreListening Experiences on the value of Public Space to support good health in cities during the Covid 19 Pandemic and beyond.
There is an inseparable relationship between mental health and urban planning. This isn't to say that the agenda of urban planning and that of public health are one and the same, but it does mean that mental health needs to be in the radar when addressing access to public spaces. Whilst parks, green areas, playgrounds and other spaces for public gathering are recognized as important in contributing to reducing stress levels, improving mental health and wellbeing and contributing to children's development, the pandemic has acted as an amplifier of current inequalities, demonstrating how unevenly public space is distributed throughout many of our cities. With some of the key preventative measures being physical distancing, restriction of movement, restriction of access to public spaces and enhanced hygiene protocols to name but a few. Whilst these measures are implemented in the interest of public health and wellbeing there are often unintended consequences regarding limitation of access. Lockdown measures and the limitation of access to basic spaces have had, as an unintended consequence, the exacerbation of mental illnesses, in particular in urban areas and even more so to the more vulnerable populations.
This learning exchange uncovers issues which are transversal and which need to be analyzed through multi-sectoral lenses. The session aims to highlight key questions relating public space to health, such as: accessibility, nature, flexibility, design, management and maintenance, connectivity and equitable distribution. More importantly, as cities start to open up from lockdown situations, we need to rebuild confidence about being out in public spaces, and rethink how and enhance the well-being benefits.
The session will take place on Tuesday, 1 december 2020 15:00-17:00 CET